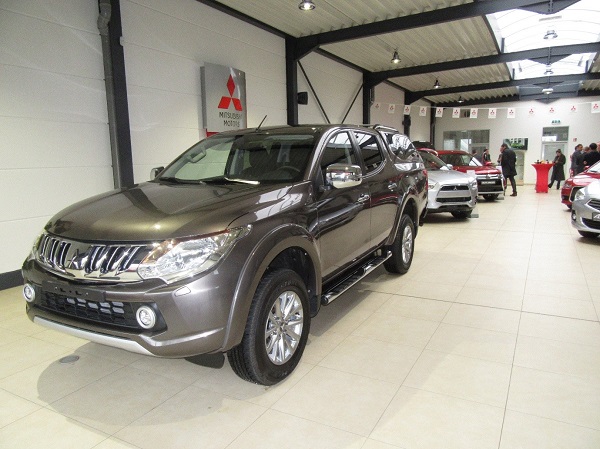 Under the wider auspices of Automotion, Luxembourg's business to business (B2B) fleet and mobility forum, Garage Binsfeld in Schifflange today hosted an event presenting the latest models in the Mitsubishi car range and providing the opportunity for the invited guests to get behind the wheel for a test drive.
The particular focus was on the all-new L200 pickup and the Outlander PHEV (Plugin Hybrid Electric Vehicle) which has become the largest selling plugin hybrid vehicle in Europe and for which its sales have already doubled the original target.
L200
The L200 was presented by Pietro Avanzini, Fleet Consultant and EV Specialist with Belux Mitsubishi importer Beherman Motors NV/SA who highlighted the improvements in fuel efficiency brought about by a combination of reduced aerodynamic drag, reduced body weight and more efficient engines as well as the increase in internal cabin space and the more natural rear seating position courtesy of the so called "J Curve" body design that allows the rear seats to be reclined by 25°. He added that the shorter wheel base gave the vehicle greater manoeuverability while its high level of standard equipment allied with its fiscal status in Belgium as a utility vehcile makes it financially very attractive, at least in that country.
On the road in 180 bhp automatic form the car felt comfortable and easy to get used to. Its relatively large size (it is 5.2 metres long) and relatively low power do mean that it is never going to be a sprinter, but its performance, while languid, was good enough for the motorway as well as around town, and the firm but compliant suspension felt taut and controlled during the brief test. Apart from the rather stately performance, the other principal downsides concerned the interior which, as with so many cars coming out of Japan, even today, present a somewhat drab aspect with too many hard plastics, although at least these seemed built to last. Nevertheless, as a work vehicle which can double up as a weekend family wagon, there will not be many cars out there that can come even close, at least on tarmac, so well done Mitsubishi.
Outlander
For the Outlander and Outlander PHEV presentations, the floor was given to Danny Olemans, Sales Manager with Beherman. The PHEV's official CO2 emissions have been reduced from 54 to 52g/km with an overall normalised fuel consumption of 1.8 l/100km. Even though the relevance of these official figures to the real world has been the subject of much discussion recently, the one thing that can be said is that for a four wheel drive crossover weighing 1845 kg and capable of towing 1.5 tonnes, these figures compare favourably to its rivals.
On the road in pure electric mode the car was near silent, and the switch between electric and petrol engine was virtually imperceptible, at least until joining the motorway, where the 121 bhp petrol engine started sounding decidedly like a coffee grinder as it accelerated modestly up to motorway traffic speeds. This is a common trait amongst the Atkinson Cycle petrol engines that are used almost exclusively in hybrid cars but the increase in whine without an accompanying shove in the back is not only irritating but also implies that greater planning is required when joining faster moving traffic. Once up to speed though, the noise reduces and the Outlander PHEV becomes a civilised and thoroughly comfortable place once more.
The interior space is superb, both front and back, where it is easy to slide one's feet under the front seat, even in its lowest position, to achieve almost limousine-like levels of space. While the overall feel of the interior was that it is well put together, there were, like with the L200, a few too many hard plastics on display, and an artificial wood trim that was slightly reminiscent of the '80s. Apparently the Belux importers are working with local suppliers to find a more elegant trim at a reasonable price, so watch this space. A concession to the batteries mounted on board is that whereas the "normal" Outlander has 7 seats as standard, the PHEV can only accommodate 5, and gains 4cm of boot floor height reducing the maximum capacity to a still useful 1625 litres.
The autonomy in pure electric mode is limited to approximately 50 km, so for those whose individual journeys are regularly longer than that, the 121 bhp petrol engine in isolation will be uninspiring and probably thirsty. However, it is capable of doing such trips, and if your regular drive is 50 km or less, or a commute of 50 km each way with 5-6 hours of recharge in between, then your fuel costs will be hugely reduced and this then becomes a car whose advantages may well outweigh its limitations, and is certainly worthy of consideration.
Photos by John Chalmers (above): Mitsubishi L200 Pickup; below: Pietro Avanzini; bottom: Danny Olemans