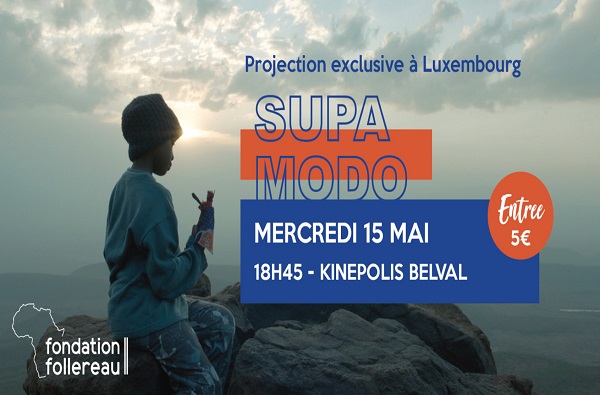 Details:
As part of International Families Day, Fondation Follereau is organising a Luxembourg screening of the film "Supa Modo", on Wednesday 15 May 2019 at Kinépolis Belval at 18:45: POSTPONED.
A unique superhero documentary film, "Supa Modo" sees Likarion Wainaina evoke not only the importance of the family but also the place of the community. This ode to the imaginary tells the adventures of Jo, a young Kenyan who flies away from her harsh reality to escape into her world. The walls of her room are covered with posters of superheroes. At just 9 years old, on a continent where infant mortality rates remain higher than elsewhere, Jo's strength and courage gives new meaning to the expression "not all superheroes wear capes".
The screening will be followed by a panel discussion between the audience and the Fondation Follereau team. The Fondation Follereau Luxembourg is a non-governmental development organisation (NGO-D) founded on 7 December 1966. Its primary vocation is to promote human solidarity and fight against all forms of exclusion, initially exclusion caused by leprosy. Today, the Follereau Foundation is involved in the field of development cooperation through its projects aimed at improving community public health, particularly maternal and child health, the prevention and follow-up of circumcised women and malnutrition.
Entry costs €5 and registration is requested online at www.ffl.lu or via email: presse@ffl.lu.
Venue: Kinépolis Belval
Organiser: Fondation Follereau
Price: €5
Reservations: www.ffl.lu ; email presse@ffl.lu