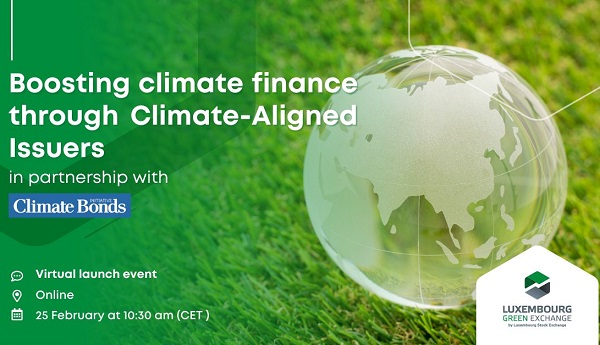 Details:
The Luxembourg Stock Exchange (LuxSE) and Climate Bonds Initiative (CBI) have joined forces on a new initiative and are organising a virtual launch event on Thursday 25 February, 2021 at 10:30.
During this 45-minute webinar, LuxSE will unveil a brand new dimension of the Luxembourg Green Exchange (LGX) made possible through a partnership with CBI.
With the global threat of climate change facing humankind, the need to mobilise capital to accelerate the transition to a low carbon economy has become more important than ever. Consequently, LuxSE decided to shine a light on climate-aligned issuers who are actively supporting the necessary transition through their environmentally friendly business activities.
Launch Programme
Introduction by Arnaud Delestienne, Member of the Executive Committee and Director of International Capital Markets at LuxSE
Moderated dialogue - The role of Climate-Aligned Issuers in accelerating sustainable finance

Julie Becker, Deputy CEO of LuxSE and Founder of LGX
Sean Kidney, CEO of CBI
Moderated by Chiara Caprioli, Senior Business Development Manager at LuxSE

Interview with a Climate-Aligned Issuer:

Robert Eigenheer, Head of Capital Markets and Head of Treasury & Asset Management at Eurofima
Moderated by Carlo Oly, Head of Relationship Management at LuxSE

Q&A and closing remarks
Registrations are open until end of business on Tuesday 23 February 2021 at: us02web.zoom.us/webinar/register. Attendees will receive the relevant Zoom details upon registration. In case of questions,email: events@bourse.lu.
Venue: Online (Zoom)
Organiser: LuxSE, CBI
Price: n/a
Reservations: See above