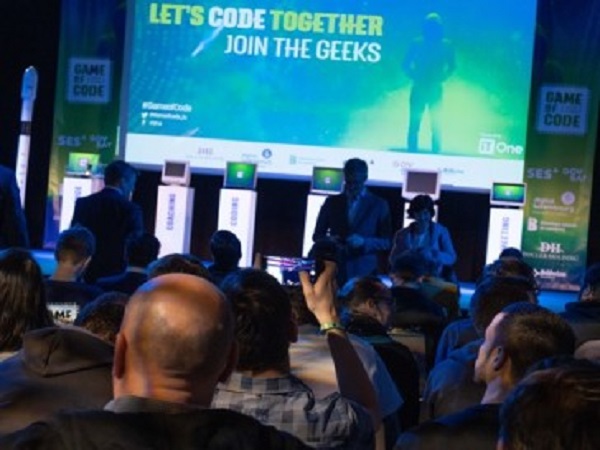 Details:
The fifth edition of Game of Code, organised by Farvest Group, will be held at the Forum Geesseknäppchen in Luxembourg-Merl from 3 - 4 April 2020: POSTPONED to 19-20 June 2020.
For the fifth consecutive year, hundreds of coders and developers will come together to compete in a 24-hour hackathon in Luxembourg City. They will spend 24 hours on several tech and coding challenges while expressing their creativity in order to win over the jury members, event sponsors and IT experts.
Game of Code also represents a unique opportunity to engage IT teams in a coding competition and therefore aims to provide a fun and challenging team building experience.
As explained by Kamel Amroune, CEO of Farvest Group: "Game of Code is now well established in the Luxembourgish IT landscape and has become a must-see event for all coders who will be able to showcase their skills while sharing quality time with their colleagues and peers".
Registrations are open on a first come, first served basis. To register a team (composed of three to four people) or an individual (reserved for students/job seekers), visit https://www.gameofcode.eu/2020-edition#3.
Company/team registrations include access passes for all team members as well as three people from the company to give moral support to their team. Students and job seekers can register individually and will be matched (based on their skills, experience and competencies) with other individuals or teams before the event. As in previous editions, teams will also have the opportunity to invite their coaches to the competition; coach registrations are subject to a fee of 35€ excl. VAT per coach (add-on only available to team registrations). As a reminder, coaches are not authorised to code.
Free beverages and food will be provided for all participants of the 24-hour coding competition and a resting area will be available for all coders. Supporters will be able to purchase beverages and food at the various food trucks present during the event. Additionally, all participants (including supporters) can take part in various games and side-animations during the competition.
For more information, visit the website www.gameofcode.eu or send an email to team@itone.lu.
Venue: Forum Geesseknäppchen, Luxembourg-Merl
Organiser: Farvest Group
Price: See website
Reservations: See above
URL: For details, see https://www.itone.lu/actualites/game-code-returns-luxembourg-next-april