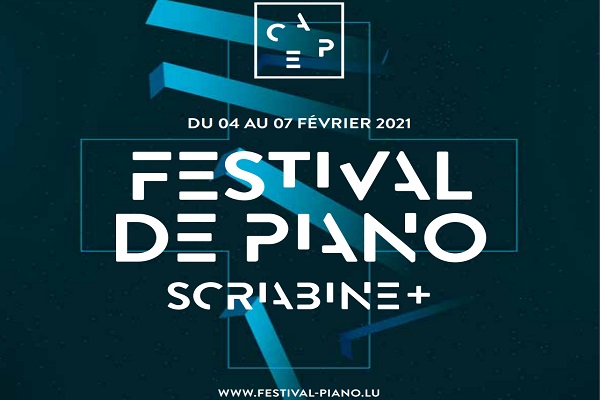 Details:
The CAPE – Centre des Arts Pluriels Ettelbruck has announced that it is kicking off the year (and its reopening) with a piano festival, taking place from 4 to 7 February 2021.
Following a second COVID-19 lockdown-related closure, CAPE is open again to the public. First on the agenda is a piano festival dedicated to Russian composer Alexander Nikolayevich Scriabin (1872-1915), organised in collaboration with Luxembourg pianist and co-curator Pascal Meyer.
During four high-level musical evenings, eight internationally recognised pianists will present their programme inspired by Scriabin's work, whether they are interpretations of his works or compositions inspired by them.
The festival will start at 20:00 on Thursday 4 February with young and talented Slovenian-born local pianist Zala Kravos and German pianist Severin von Eckhardstein, winner of the Queen Elisabeth Competition.
The next evening, Friday 5 February, from 20:00, the co-curator of the festival Pascal Meyer will be the first to do his recital before Helena Basilova ends the evening with a silent film concert, covering works by Scriabin to accompany the Soviet sci-fi classic "Aelita" (1924) by Yakov Protazanov.
On Saturday 6 February, from 20:00, it will be the turn of Swedish pianist Maria Lettberg, a specialist of Scriabin who was nominated for the 2018 Grammys Awards, to take over the piano before giving the stage to Boris Giltburg, a young Israeli pianist and winner of the Queen Elisabeth Competition.
The festival will culminate in a grand finale on Sunday 7 February, from 17:00, with Anna Federova, a young Ukrainian pianist whose interpretation of Rachmaninoff's Piano Concerto No. 2 was a huge Youtube success, and renowned Norwegian classical pianist Håkon Austbø, who received the order of chivalry "Ordre des Arts et des Lettres" for his exemplary work of the French repertoire and acquired worldwide fame through his interpretations of Messiaen and Scriabin.
A festival pass (includes all performances) costs €93 or €46.50 for under-26s. Tickets per evening (includes performances by two pianists) cost €31 or €15.50 for under-26s. Tickets cost €1.50 for Kulturpass holders. Bookings can be made via tel.: 268-12681 or via email: billetterie@cape.lu.
For further information, visit www.festival-piano.lu.
Venue: CAPE – Centre des Arts Pluriels Ettelbruck
Organiser: CAPE
Price: See above
Reservations: See above