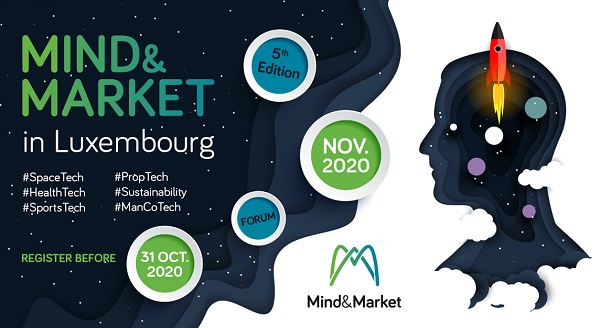 Details:
The 5th edition of the Mind & Market in Luxembourg Forum will take place virtually this November.
Mind & Market brings together creative project owners, disruptive startups, entrepreneurs, corporates and potential investors. By matching the potential of innovative solutions with the needs of the market, the initiative aims to act as a catalyst for the realisation of the project owner's ideas and as facilitator for startups' growth.
This year, there will be six virtual sessions held via Zoom on the following dates and times. To attend these sessions, click on the links below.
- Tuesday 10 November 2020 @ 10:00: PropTech
- Thursday 12 November 2020 @ 10:00: SpaceTech
- Tuesday 17 November 2020 @ 10:00: SportsTech
- Wednesday 18 November 2020 @ 10:00: HealthTech
- Tuesday 24 November 2020 @ 10:00: ManCoTech
- Wednesday 25 November 2020 @ 10:00: Sustainability
Venue: Zoom
Organiser: Mind & Market
Price: See website
Reservations: See website
URL: For details, see www.mindandmarket.com/les-evenements-forums/luxembourg-sustainability/