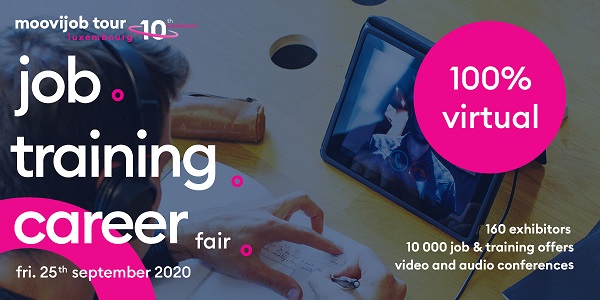 Details:
The Moovijob Tour Luxembourg recruitment fair will celebrate its 10th anniversary with a 100% virtual edition on Friday 25 September 2020.
The biggest job, training and career fair in Luxembourg and the Greater Region is scheduled to go ahead as planned, albeit for the first time virtually. More than 160 exhibitors will be simultaneously connected to meet their future recruits "face-to-face" and offer a total of 10,000 job and training offers as well as several conferences throughout the day.
The Moovijob Tour Luxembourg, initially scheduled in March, as well as the six other recruitment events planned for 2020 have been converted into 100% virtual recruitment fairs and evenings due to the COVID-19 pandemic. For the first time, a virtual event will enable more than 2,000 video conferences to take place at the same time. Although its format is different, the aim of the event remains the same: to allow visitors to meet many companies from all sectors, proposing various kind of jobs in a single day.
Yannick Frank, Luxembourg Director at Moovijob, commented: "Moovijob's DNA is meeting. When we learned about the different recommendations related to the organisation of such a large event, we had only one idea in mind: to continue to allow face-toface meetings while ensuring everyone's safety. Virtualising our events came to us as a matter of course".
Since its launch in 2011, the Moovijob Tour Luxembourg has brought together more than 1,200 companies and led to thousands of meetings and recruitments.
Register for this virtual edition at https://www.moovijobtour.com/luxembourg.html.
Venue: Online
Organiser: Moovijob
Price: n/a
Reservations: See website
URL: For details, see https://www.moovijobtour.com/luxembourg.html