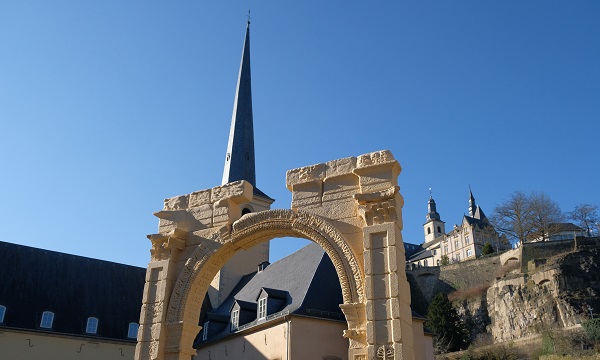 Details:
The UK-based Institute for Digital Archeology (IDA) and the Neumünster Abbey Cultural Exchange Center (neimënster) will be holding a two-day event dedicated to the protection of contemporary cultural heritage on Tuesday 25 and Wednesday 26 February 2020 at neimënster in Luxembourg-Grund.
To facilitate an exchange on contemporary cultural protection, the IDA has called upon a panel of professionals and invited experts to participate in a multidisciplinary round table at neimënster, which is currently hosting the 3D replica of the Arch of Palmyra.
Considered one of the wonders of Roman art, the Arch of Palmyra was destroyed by Daesh in 2015. Made using revolutionary 3D printing technology, the 2/3 scale replica of the arch is installed on the forecourt of neimënster and is visible to the public until 11 March 2020. The installation of the arch at neimënster highlights the importance of protecting cultural property and heritage, collateral victims of armed conflict. Erected on the forecourt as a symbol, it recalls that digital technology can help preserve at least the legacy of a past damaged by human beings.
The discussions, in English, will bring together authors, journalists and scientists for two afternoons of conferences and discussions related to the protection of contemporary heritage.
The first round table will take place on 25 February 2020 from 13:00 to 15:00. Guest speaker Tom Holland, a best-selling English author and BBC presenter, will address the topic "Meeting Antiquity: Finding a Meaning in Our Common Past". This first round table will be devoted to characterising our appreciation of cultural markers, including reconstructions and renovations, in the 21st century.
The second round table, taking place on 26 February 2020 from 13:00 to 15:00, will see BBC World Affairs Editor John Simpson discuss "Delicate subjects: the potential of civil discourse in the 21st century". Invited by the IDA, John Simpson will discuss strategies and explore avenues for engaging in a constructive dialogue around sensitive issues such as the importance of protecting cultural property and heritage.
Also speaking at these sessions will be Roger Michel (IDA), Dr Alexy Karenowska (IDA and Department of Physics at University of Oxford) and Dr Daniel Robinson (Department of History and Magdalen College at University of Oxford).
These discussions are open to the public and the sessions will be recorded and made available on the IDA's Vimeo and YouTube channels. Free admission, although seating is limited.
Venue: neimënster, Luxembourg-Grund
Organiser: neimënster
Price: Free
Reservations: n/a