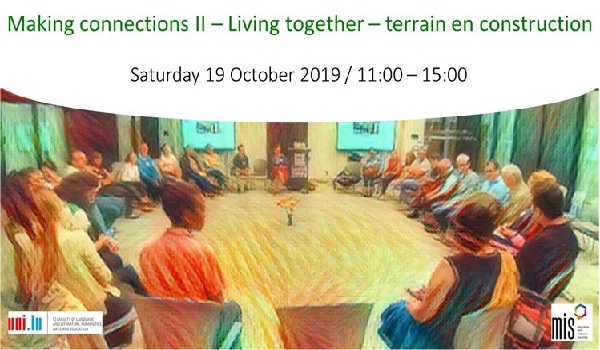 Details:
The University of Luxembourg is holding a second edition of the "Making connections" meeting between cultural associations on Saturday 19 October 2019 from 11:00 to 15:00.
Following the success of the first meeting back in June, the organisers have prepared a second "Making connections" gathering, this time focusing on the topic "Living together – terrain en construction". The choice of topic was based on feedback received at the previous meeting.
In addition to offering an open space for discussion, there will be some creative tasks, as this was a feature many participants said they enjoyed last time. For these activities, participants are asked to bring an object – it can be personal – that raises an issue/aspect of migration for them. The task is very open and so is the range of topics they might want to think of. The object and theme can be related to a personal journey or issue that participants would like to bring up in the discussion.
This next meeting is considered a possible springboard for a series of (follow-up) meetings, part of which could be organised by any of the participants (with support from the organisers). Further details will be revealed at the upcoming session.
Lunch and drinks will be provided at this meeting and public transport tickets (at the price of €4) can be reimbursed on demand.
The venue will be determined at a later date but there is a choice between the Belval or Kirchberg campuses or Maison de l'Europe in Luxembourg-ville. Interested participants should submit their venue preference via the registration form (before Friday 27 September 2019) at http://ulsurvey.uni.lu/index.php/721583?lang=en.
Venue: tbc
Organiser: University of Luxembourg
Price: Free
Reservations: See above