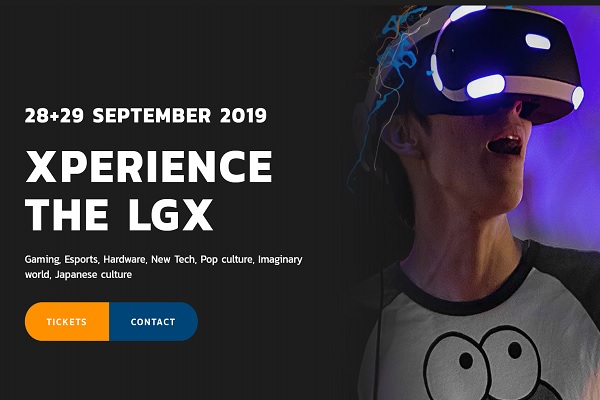 Details:
Following the success of its previous three editions, all held at the Casino2000 in Mondorf, the Luxembourg Gaming Xperience (LGX) is levelling up this year to a bigger hall at LuxExpo the Box in Luxembourg-Kirchberg; the fourth edition will be held on 28 and 29 September 2019, from 10:00 to 18:00.
For the fourth edition of the LGX, the convention will be quadrupling its surface compared to previous editions, going from a 1,500m2 hall to a space of 6,400m2. This will offer room for even more activities, exhibitors, tournaments, guests and new areas.
This year, the focus will be on "Gaming, Esport, New Tech, Geek Geek Culture & Japan", which includes the introduction of three new "universes": Japan (Anime, Manga, figurines), Pop Culture (cinema, comics) and Fantasy World (Science Fiction, Fantasy, Cosplay village).
The fourth edition will also feature up to twelve Esport tournaments on site, representing nearly 800 expected participants, for the first time in Luxembourg and the Greater Region. Visitors will once again be able to watch the final stages live on stage. The lineup of these tournaments will be announced at a later date.
In addition, new brands will be joining the LGX, as well as a new area dedicated to sales stands for Manga, Anime, figurines and retro gaming. The list of exhibitors will be announced shortly.
The 2019 edition will also be able to count on new players, who will bring added value to the different universes offered on site. The "11F Gaming" platform (almost 12,000 followers), a reference to Luxembourg in terms of "Gaming / Esport / Livestream", will be returning to oversee the areas dedicated to the world of video-game / electronic sport (Esport Tournaments) and prepare the programme on site. Similarly, "MetzTorii" who recently held a show in Metz and have gathered nearly 20,000 fans of "Culture pop, Japan, Gaming", will be present, as will "Tsume Art", an internationally renowned Luxembourg company (more than 500,000 Followers), specialising in the creation of resin figurines (Tsume), board games (Yoka) and clothing (Iki). Finally, the association "SFFSL - Science Fiction & Fantasy Society Luxembourg", recognised in the community for the organisation of the annual convention "Luxcon", will also join the event with a zone dedicated to the worlds of "SF, Fantasy, Cosplay, Artists, Creators".
More than 10,000 visitors are expected to attend the LGX 2019.
A one-day pass costs €10 and a two-day pass for the event costs €12. Tickets and further information are available on the convention's new website: www.lgx.lu.
Venue: LuxExpo the Box, Luxembourg-Kirchberg
Organiser: LGX
Price: €10-€12
Reservations: See above