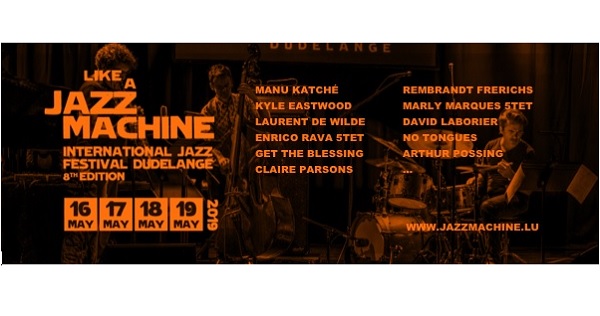 Details:
The popular "Like a Jazz Machine" music festival will next take place from 16 to 19 May 2019 at Opderschmelz in Dudelange.
After the great success of the first jazz festival in Dudelange in 2012, the programme of this 8th edition promises to be just as sumptuous. As part of this 4-day event, Opderschmelz offers a common platform for the public, artists and professionals and entertainment professionals, where international and Luxembourg jazz musicians share the stage.
The artists performing at the 2019 festival will include Manu Katché, Kyle Eastwood, Laurent de Wilde, Enrico Rava 5tet, Get the Blessing, Claire Parsons, Rembrandt Frerichs, Marly Marques 5tet, David Laborier, No Tongues, Arthur Possing.
The complete line-up of this edition and the programme will be announced shortly on www.likeajazzmachine.lu
Venue: Opderschmelz in Dudelange
Organiser: Opderschmelz
Price: see website
Reservations: www.likeajazzmachine.lu