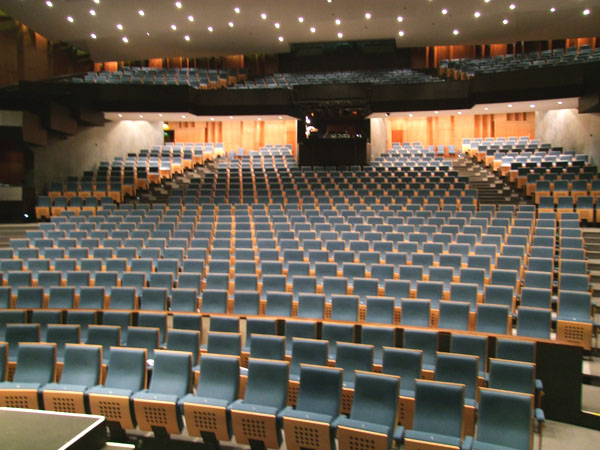 Details:
Details:  The Theatres de la Ville de Luxembourg have announced their programme for the 2017-18 season, featuring performances in theatre, dance and opera.
Theatre highlights:
- The Woman in Black, by Susan Hill (author) and Stephen Mallatratt (playright) and directed by Robin Herford (12-14 October 2017)
- Funeral Blues (musical theatre), by W.H. Auden (poetry) and Benjamin Britten (music & songs); Luxembourg's Cathy Krier will perform on piano alongside established bass-baritone Laurent Naouri (18-21 January 2018)
- A Man of Good Hope (musical theatre), based on the book by Jonny Steinberg, adapted by Isango Ensemble (South Africa), directed by Mark Dornford-May (17-19 May 2018)
Opera highlights:
- Don Giovanni by Wolfgang Amadeus Mozart by the Festival d'Aix-en-Provence in France, with the Luxembourg Philharmonic Orchestra (23-27 October 2017)
- Evita by Andrew Lloyd Webber, with The Really Useful Group and produced by Bill Kenwright (19-29 December 2017)
- The Barber of Seville by Rossini, with the Theatre des Champs-Elysees and the Luxembourg Philharmonic Orchestra (28 February - 4 March 2018)
Dance highlights:
- The Michael Clark Company "To a simple, rock'n'roll...song" (7-8 November 2017)
- Anne Teres De Keersmeker / Rosas "Acterland", "Work/Travail/Arbed", "Bach.Cellosuiten" (7 April - 5 May 2018)
- Martha Graham Dance Company (New York) "Dark Meadow Suite, Ekstasis, Lamentation Variations & Chronicle (3-4 February 2018)
In addition to the main programme of performances scheduled for the Grand Theatre and the Theatre du Capucins, both in Luxembourg city, the Luxembourg city theatres are also putting on a number os special projects, including the Red Bridge Project (dance - see Anne Teres De Keersmeker above), the 3rd TalentLab#18 (set for 24 May - 3 June 2018) to support, guide and encourage emerging talent.
For the full programme and all details, including reservations, see www.lestheatres.lu
Venue: Grand Theatre
Organiser: Theatres de la Ville de Luxembourg
Price: see website
Reservations: www.lestheatres.lu / www.luxembourg-ticket.lu 
URL: 
Info:  
Price: 0
Reservations: 0