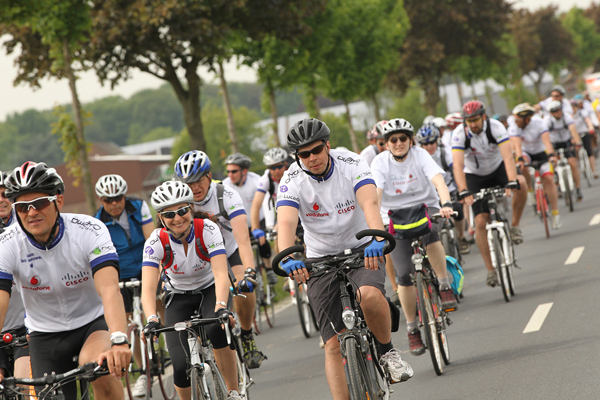 Details:
Details:  For the 6th time since its creation back in 2008 the Global Biking Initiative (GBI) will bring together people from all over the world under the motto 'We cycle for charity'.
This year, about 400 enthusiastic cyclists representing 22 countries will cover the 700km that separate Paris from Neuss (Germany), from 30 June to 6 July. The group will cycle an average of 100km a day and will stop overnight in Jablines (Meaux), Reims, Verdun, Mersch, Malmedy and Bergheim before reaching Neuss, their final destination.
Prior to and during the tour, each country team raises funds for a chosen charity mostly by involving companies from the ITC field such as Vodafone, Huawei, Alcatel-Lucent, Reply, The4 or VISA. Last year's GBI that took its riders from Oslo to Dusseldorf was extremely successful by raising over €200,000 for local charities, thus encouraging the participants to reiterate their efforts this year.  
The GBI 2013 will arrive in Luxembourg on 3 July. The cyclists will make a lunch stop on the premises of the Kriibskrank Kanner Foundation, the charity that the participants from Luxembourg have been supporting for three years. Mrs. Anne Goeres, the director of the Foundation that assists children with cancer and their families, has kindly offered the space, while the Vodafone Procurement Company will be organising and sponsoring the BBQ that will take place between 13:00 and 15:00. All the proceeds of the BBQ will be added to the funds raised for the Kriibskrank Kanner Foundation.  
After this much-needed break, the cyclists will then follow their itinerary to Mersch, the town that will kindly welcome the GBI participants and host them at the Hall Omnisports Krounebierg. From 17:30 onwards local guests are invited to the GBI Village that will be set up next to the gymnasium, in order to join the cyclists for a welcome drink. Everybody will then be invited to a Karaoke party sponsored by Huawei, that will start around 19:00 and that will close the day in a merry atmosphere.
Venue: Hall Omnisports Krounebierg in Mersch
Organiser: Global Biking Initiative
Price: n/a
Reservations:
URL:   http://www.gbi-event.org
Info: 
Price: 0
Reservations: 0