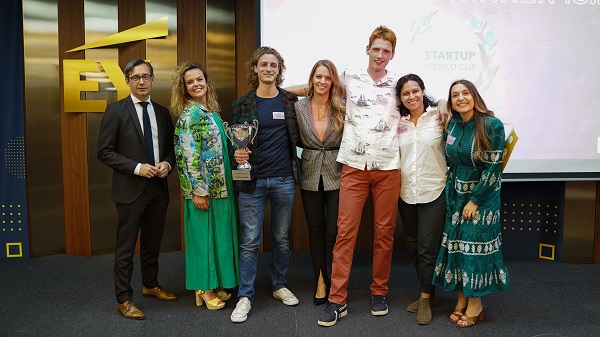 Details:
Startup World Cup – 10 Luxembourg Startups to Pitch for their Ticket to Silicon Valley
The Startup World Cup is an international competition organised by Venture Capital firm Pegasus Tech Ventures (known for funding successful startups such as SpaceX, Airbnb and Twitter), with the goal of connecting startup ecosystems worldwide. Promising startups have the opportunity to pitch their ideas and compete in various stages until the final round in Silicon Valley, where the winning company will receive an investment prize of 1 million US dollars.
The Luxembourg final will be held in Kirchberg on Tuesday, 13 June 2023, hosted by EY Luxembourg. The winner of the local pitching competition will represent Luxembourg at the next round in San Francisco, competing against more than 50 other candidates. The winning startup will also participate in a roadshow networking experience and get the chance to network with other entrepreneurs, investors and the larger startup ecosystem.
A collaborative selection committee, consisting of representatives from Luxinnovation and Startup Luxembourg (Jean-Michel Ludwig), the Luxembourg-City Incubator (Bastien Berg), the House of Startups (Philippe Linster), the Luxembourg House of Financial Technology (Luca Macuso), le Village by Crédit Agricole (Amélie Madinier), Startups.lu (Elfy Pins, Marielle Kropf), the Luxembourg Business Angel Network (Eric Weber) and the University of Luxembourg Incubator and Entrepreneurship Programme (Pranjul Shah), have selected the 10 most promising startups among the applicants:
- Circu Li-ion, which has developed solutions to create an ecosystem of reuse for lithium batteries
- ClimateCamp, a SaaS sustainability platform guiding organizations in uncovering and tracking their greenhouse gas emissions
- Fundvis S.A., a Software as a Service (SaaS) platform specialised on digitalizing the fund industry)
- Gonuggets S.A., which built an operating system for digital native brands selling on marketplaces worldwide
- KEYM (Gonly S.A), a specialized social network dedicated to the musical ecosystem and industry
- MDsim, a Software as Medical Device (SaMD), aimed at helping spine surgeons and medical device manufacturers
- Myelin-H, specialized in the remote monitoring progression and treatment effectiveness of brain disorders, particularly multiple sclerosis
- Odysseus Space, which provides products and services to facilitate the flow of goods and information in the solar system
- Veezzy, a network of creators, serving local businesses in creating video content
- Warden Machinery, specialized in improving the steelmaking process by using cameras and artificial intelligence
To prepare for the final, the finalists will be invited by the House of Startups to attend a dedicated training session. On the day of the event, they will pitch to an independent jury composed of prestigious VCs and tech entrepreneurs:
• Christophe Bianco, Managing Partner of Excellium Services
• Fabrice Testa, serial tech entrepreneur
• Jean-Michel Ludwig, Director at Luxinnovation
• Marzio Schena, CEO of ANote Music, winner of last year's Startup World Cup who made it into the top 10 best startups worldwide
• Pascal Bouvier, Managing Partner of MiddleGame Ventures
• Patrizia Luchetta, Partner at Kavedon Kapital
• Raoul Mulheims, CEO of Finologee
During the event, which starts at 17:00, the 10 startups will pitch to the jury and the public. The winner will be announced and awarded that same evening, after deliberation.
Venue: EY Kirchberg
Organiser: EY Luxembourg
Price: n/a
Reservations: see website