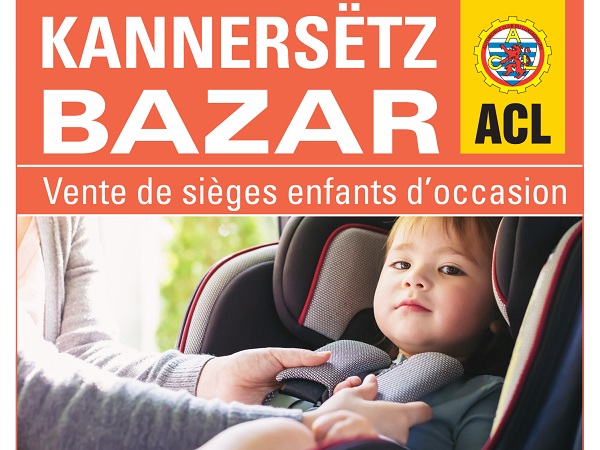 Details:
The Automobile Club of Luxembourg's (ACL) "Kannersëtzbazar" (second-hand child car seats sale) will take place in Ingeldorf, near the ACL's new premises in northern Luxembourg, on Saturday 4 February 2023 from 09:00 to 14:00.
Up to 300 child car seats will be collected between 21 and 30 January 2023 at the ACL's premises in Ingeldorf, during opening hours (Monday to Friday, 08:00 to 18:00). Only members will be allowed to put their second-hand car seats up for sale. Moreover, only clean seats, in good condition and bearing the ECE-R44 or R129 standards (also called "i-Size") will be accepted.
The "Kannersëtzbazar" on 4 February 2023 is open to the general public and will take place in the premises of ASPORT Cycling (1st floor; 34 Route d'Ettelbruck, L-9160 Erpeldange-sur-Sûre). Only cash will be accepted.
Venue: ASPORT Cycling (1st floor; 34 Route d'Ettelbruck, L-9160 Erpeldange-sur-Sûre)
Organiser: ACL
Price: n/a
Reservations: n/a