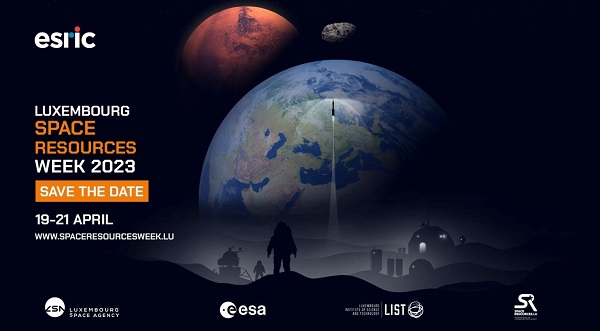 Details:
LuxExpo the Box is hosting the Space Resources Week from Wednesday 19 to Friday 21 April 2023 at its exhibition halls in Luxembourg-Kirchberg.
The Space Resources Week 2023 will take place as a 3-day hybrid conference connecting thought leaders from space agencies, research institutes, start-ups, and industry (both terrestrial and space). This year's event will focus on the synergies required for the development of an inclusive space resources utilisation ecosystem, as well as on ways of accelerating the use of space for the benefit of humankind.
The Space Resources Week 2022 attracted 300 people on-site in Luxembourg and close to 700 people online.
The event is organised by the European Space Resources Innovation Centre (ESRIC), in collaboration with the Luxembourg Space Agency, the European Space Agency and the Luxembourg Institute of Science & Technology (LIST).
Tickets: see website
OPENING TIMES
Wednesday: 09:00 - 18:00
Thursday: 09:00 - 18:00
Friday: 09:00 - 18:00
Further information and tickets at: https://www.spaceresourcesweek.lu/
Venue: LuxExpo the Box in Luxembourg-Kirchberg
Organiser: European Space Resources Innovation Centre (ESRIC)
Price: See above
Reservations: See above