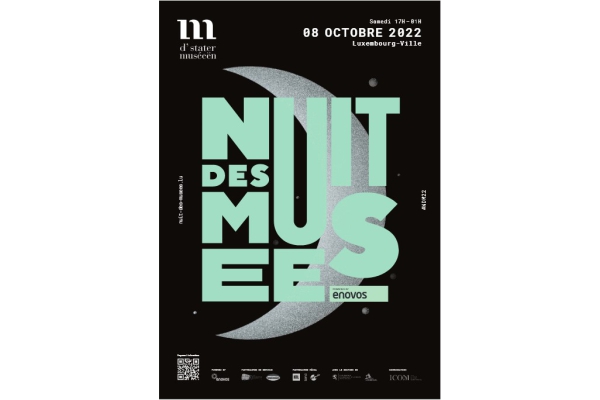 Details:
The 21st anniversary edition of "Nuit des Musées" (Museum Night) will take place in Luxembourg City on Saturday 8 October 2022, from 17:00 to 01:00.
Launched in 2001 on the initiative of the "d'stater muséeën" (city museums) network, Museum Night has since become an unmissable annual meeting place for culture and heritage enthusiasts in Luxembourg. The event offers visitors access to the permanent collections and temporary exhibitions of the network's seven museums at night.
The seven participating museums are Villa Vauban, Casino Luxembourg – Forum d'art contemporain, Lëtzebuerg City Museum, National Museum of History and Art, National Museum of natural history – 'natur musée', Musée Dräi Eechelen and Mudam Luxembourg.
A special programme with DJs, performances, music, workshops, special guided tours and culinary surprises will be organised, as well as when the museums are closed, a queer rave-party takes place at Mudam Luxembourg until 03:00. Specific workshops will be offered to families with children. It will thus be possible to tinker, to experiment, to explore and above all to experience many new things together.
Everyone can put together their individual programme from a wide range of activities. Music, literature, performances or dance rub shoulders with current museum exhibitions. It is precisely this interaction between different art forms in different locations that makes Museum Night unique.
Once again this year, as part of the traditional "Coups de cœur" project, seven artists from different backgrounds were invited to present a "spoken word" performance in the seven participating museums. This programme emphasises speech – an unprecedented encounter between visual and spoken arts! Here, literature is heard during a live experience at the museum. Beforehand, the artists have each familiarised themselves with the work of the museum in which they have been invited to perform, in order to draw inspiration from it for their own intervention.
Thus, during Museum Night, night owls can explore seven museums – mainly on foot or by free shuttle. The programme is designed in such a way that one can easily walk from one point of the programme to another. And those who like conviviality can visit the exhibitions throughout the evening in complete peace of mind.
From 19 September 2022, the pre-sale of combined tickets is open, in the seven participating museums, at the Luxembourg City Tourist Office and at www.luxembourg-ticket.lu.
All detailed information and complete museum programmes are available online via: www.nuit-des-musees.lu.
Venue: various, see above
Organiser: Nuit des Musées
Price: from €3.00
Reservations: see above