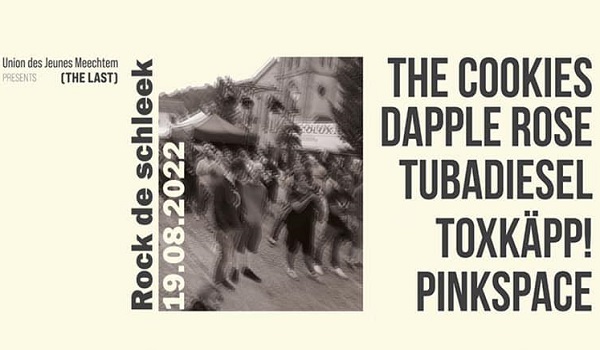 Details:
The Union des Jeunes Meechtem (Machtum youth union) is organising the twelfth and last edition of the "Rock de Schleek" festival on Friday 19 August 2022 at 18:30.
The festival takes place every year in the context of the German-Luxembourgish "Wäin-Happening" (wine happening) event, organised by Machtum (Luxembourg) and Nittel (Germany).
Rock de Schleek offers artists from Luxembourg and the Greater Region a stage at the "Schliikeplaz" in Machtum, in south-eastern Luxembourg. The organising committee has chosen a mix of newcomers and more well-known bands, such as Toxkäpp!, Dapple Rosé, Tubadiesel and Boy from Home (replacing The Cookies), for this last edition. This year, for the first time, Pinkspace will also be joined by a DJ.
In addition to BBQ food, the organisers will serve pasta with homemade sauce, including a vegetarian option, as well as beer, wine and crémant.
Venue: Schliikeplaz (9 Rue de l'Église, L-6841 Machtum)
Organiser: Union des Jeunes Meechtem
Price: See above
Reservations: See above