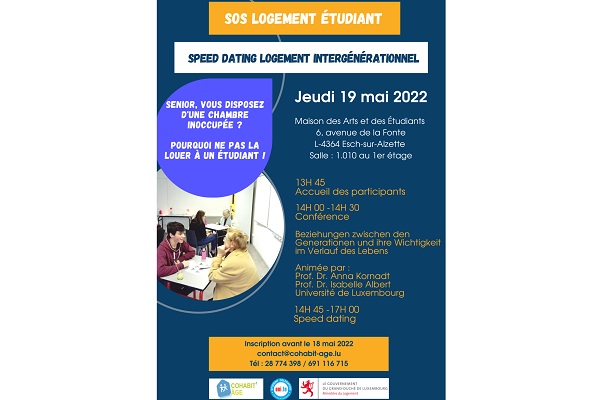 Details:
The Student Delegation of the University of Luxembourg and Cohabitage ASBL are organising an intergenerational speed dating event on the Esch-Belval campus on Thursday 19 May 2022, from 14:00 to 17:00.
The aim of this event is to bring together older people who have a free room to offer with students who are struggling to find affordable accommodation. The goal is to generate an exchange, allowing students to express their housing needs and to meet the owners and providers of intergenerational housing.
The speed ​​dating part of the event will be preceded by a conference (in German) on the importance of intergenerational relationships throughout the course of life. The conference will be moderated by Prof Dr Anna Kornadt and Prof Dr Isabelle Albert from the University of Luxembourg.
Following this, each meeting between a student and a retired homeowner / accommodation provider is set at ten minutes. Additional meetings will then be organised to continue the networking process. The speed dating will be held in various languages depending on those spoken by participants.
Those wishing to participate in this event are required to register by Wednesday 18 May 2022 using the dedicated form: https://docs.google.com/forms/d/15WM0YJPod8GlPw7hh0q1mOWo1YsTjBvTdYDEnzeq7Po/viewform?edit_requested=true
Further information is available via email: contact@cohabit-age.lu or via tel.: 287-74398 / 691-116715
Venue: Room 1.010 (1st floor), Maison des Arts et des Étudiants (6 Avenue de la Fonte, L-4364 Esch-sur-Alzette)
Organiser: Student Delegation of the University of Luxembourg; Cohabitage ASBL
Price: n/a
Reservations: See above