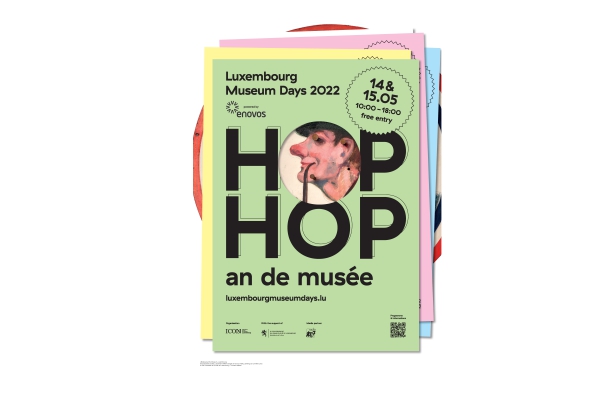 Details:
The 25th "Luxembourg Museum Days" will take place on Saturday 14 and Sunday 15 May 202022; over these two days, visitors are being offered free access to the permanent collections and temporary exhibitions of 41 museums and art galleries throughout the Grand Duchy.
A varied and diversified cultural programme including guided tours, workshops, concerts and activities for children will also take place during these two days.
This initiative was launched in 1998, when the museums in Luxembourg-ville, the stater muséeën, invited for the first time to an open day in their museums. "Madame, Monsieur, the Invitation to the Museums" was the slogan at the time. From 2010, more and more local museums in the Grand Duchy of Luxembourg joined this initiative.
The Luxembourg Museum Days continue to attract the public and while the first edition in 1998 welcomed 2,500 visitors, the number of visitors has steadily increased over the years with recent editions witnessing around 20,000 visitors.
The 2022 edition of Luxembourg Museum Days is organised by International Council of Museums (ICOM) Luxembourg, the Luxembourg National Council of ICOM, as part of International Museum Day, a unique moment for the international museum community organised every year since 1977 by ICOM, traditionally on 18 May. The museums participating in the celebration of this day organise events and activities around this date. On International Museum Day 2022, the focus is on the potential of museums. Museums have the power to transform the world around us. Places of incomparable discovery, they inform us about our past and open our minds to new ideas. International Museum Day unites more and more museums around the world. Last year, more than 37,000 museums took part in the event in nearly 156 countries.
As part of the Luxembourg Museum Days, ICOM Luxembourg will present a selection of five member museums from different parts of the country: the Dräi Eechelen Museum in Kirchberg, the Fire Brigade Museum in Senningen, the European Museum Schengen, the National Museum of 'Military History in Diekirch and the exhibition "The Family of Man" in Clervaux.
Most of the activities are by prior reservation with the participating museums.
The Luxembourg Museum Days will take place on 18 and 19 May from 10:00 to 18:00. Admission is free for all.
The complete programme and details of the 41 participating museums and art galleries is available online via www.luxembourgmuseumdays.lu.
Venue: Luxembourg museums
Organiser: International Council of Museums (ICOM) Luxembourg
Price: free
Reservations: n/a