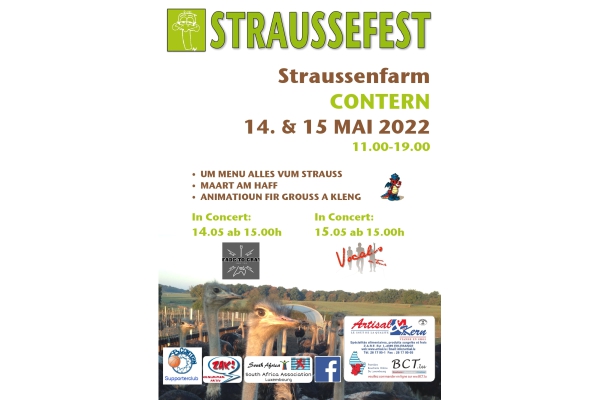 Details:
After a two-year hiatus, the farm "An Nommesch", located in Contern, had announced the Ostrich Festival ("Straussefest"), also known as the Ostrich Farm Open Day, on Saturday 14 and Sunday 15 May 2022.
The farm has been operational since 1795 is currently managed by Martine Axmann-Reuter. She is supported by her father Nicolas and another worker working for her. The farm covers 130 hectares, of which half is covered. The farm consists of 60 dairy cows and circa 300 ostriches.
The Ostrich Farm Open Day event, running from 11:00 to 19:00 both days, will also be an opportunity to see adult and baby ostriches on the farm. The South African Stand (supporting the International Bazaar) will be there selling food (including ostrich burgers, ostrich burgers, ostrich sausages) and drinks.
On Saturday 14 May, "Fade to Gray" (whose members are originally from South Africa) will be in concert from 15:00 and, on Sunday 15 May, "vocals" will play from 15:00 onward.
More information is available online via: www.straussenfarm.lu.
Venue: 38 Rue des Prés, L-5316 Contern, Luxembourg
Organiser: straussenfarm "An Nommesch"
Price: free
Reservations: see above