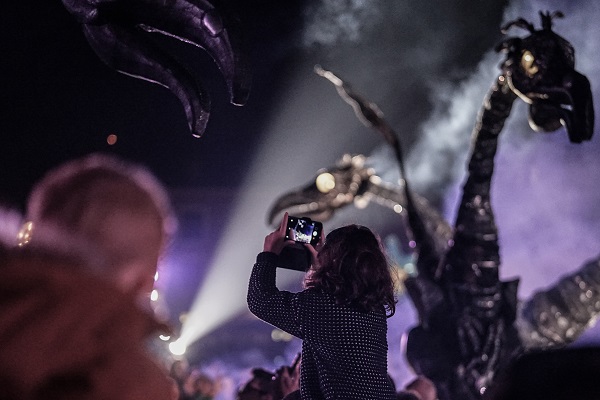 Details:
After a two-year hiatus, the 12th edition of the Nuit des Lampions, organised by COOPERATIONS asbl, is returning to Wiltz, from 16 to 18 September 2021.
This year's event promises a host of light installations, handcrafted paper lanterns, concerts, shows and performances, all complemented by a variety of culinary specialties.
The first Nuit des Lampions took place in 2007 within the framework of "Luxembourg and the Greater Region - European Capital of Culture". Since then, and under the direction of the English artist Bryan Tweddle, the famous light sculptures have been produced by the employees of sheltered workshops, students of the Maastricht Academy of Fine Arts & Design, the CIGR Wiltz team and participants from various creative workshops, among others.
"Nuit des Lampions" becomes "Nuits des Lampions"
After being postponed in 2020 due to the COVID-19 pandemic, this light festival is going ahead in a new format this year: instead of just one evening, "Nuits des Lampions" will take place across three evenings.
The programme will be limited to the Jardin de Wiltz only and the number of visitors will be capped at 500 per evening. Nuits des Lampions 2021 will take place as a CovidCheck event, meaning visitors must have proof that they have been vaccinated against, recovered from or tested negative for COVID-19.
Programme
Outdoor exhibition: 31 artists from five different countries are currently in residence in Wiltz where they are creating new light sculptures under the direction of Bryan Tweddle. For three consecutive days, these creations will once again illuminate the Jardin de Wiltz
Thursday 16/09/2021 from 19:00
Inauguration of the open-air exhibition with guided tours, music by the Weeltzer Musek, a bar and food stands
Friday 17/09/2021 & Saturday 18/09/21 from 18:30 (DJ until 01:00)
Main programme
IM_SCHATTEN (theater & dance): Inspired by Plato's Allegory of the Cave and created ny Luxembourg artist Max Thommes, this theatrical performance creates a virtual world in which the dancers evolve through the levels of an imaginary game. Featuring Max Thommes, Jill Crovisier, Georges Maikel and Pascal Karier. Coproduced by La Nuit des Lampions & La Nuit des Légendes with the support of Twist&Tweak and Amplitude
Catastrophe (concert): Produced under Bertrand Burgalat's Tricatel label and celebrated by Etienne Daho, this group forms part of the tradition of the French avant-garde. Each performance is a unique experience
Anina Rubin (sound arts): The Luxembourgish artist presents her three-dimensional sound creation *Lost Incarnations", with songs accompanied by piano, guitar and banjo, combined with vocal elements and choir
Hunnegstrëpp (brass band concert)
Jackie Moontan (pop concert)
Stiff Peaks (pedal steel & analogue synthesiser concert)
John Wolter & Mateus Wojda (jazz / Carte Blanche)
Claire Parsons & Eran Har Even (jazz concert)
Rolando Rondinelli (musical theatre and dance)
Sun Glitters (sound installation)
cooperationsArt (exhibition)
Tickets for Thursday cost €10, €5 for students under 26 or €1.50 with a cultural pass. Children under 14 go free.
Tickets for Friday and for Saturday (SOLD OUT) cost €25, €15 for students under 26 or €1.50 with a cultural pass. Children under 14 go free.
Tickets are available online at www.ndl.lu or www.prabbeli.lu
Venue: Jardin de Wiltz (8-10 Gruberbeerig, L-9538 Wiltz)
Organiser: COOPERATIONS asbl
Price: See above
Reservations: See website(s)