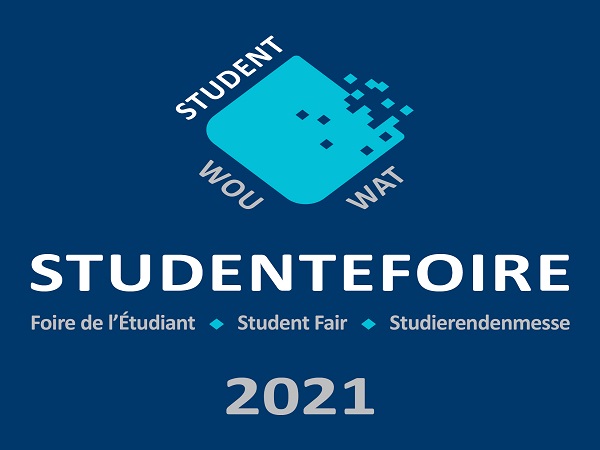 Details:
This year's Student Fair (Studentefoire), organised by Luxembourg's Ministry of Higher Education and Research, is taking place online from 25 to 29 October, followed by a face-to-face closing event on 30 October 2021.
A total of 217 stands are participating in this year's fair, including various ministries, universities from across Europe and North America, student associations, political organisations, embassies, banks and insurance companies.
Centred around the slogan "Sief eDUcatioun! Däin Job fir d'Zukunft" ("Be yourself / education! Your future job!"), the Education Ministry and its various departments are participating in the Student Fair 2021, with the aim of showing visitors prospective careers in the education system. Here, final-year secondary students can learn about the range of professions offered, from primary and secondary school teachers and educators to social workers, speech therapists, occupational therapists and psychologists, among others. A webinar, taking place at 13:00 on 28 October, will highlight the profiles sought in this sector. Employees from the various departments of the ministry will also be available to provide information via chat.
The fair is open to all and will be accessible on 28 and 29 October on the website www.studentefoire.lu. It is preceded by an exploration phase, from 25 to 27 October, during which final-year students and interested members of the public can discover the new digital platform and over 200 stands from fifteen different countries.
On 30 October, a "meeting day" in Esch-Belval (Maison du Savoir, University of Luxembourg) will close the orientation week and Student Fair 2021. This face-to-face event is dedicated to a direct exchange between secondary school and university students, representatives of student circles and associations as well as various players in national higher education.
Venue: Online; Esch-Belval (30 October)
Organiser: Luxembourg's Ministry of Higher Education and Research
Price: n/a
Reservations: tbc