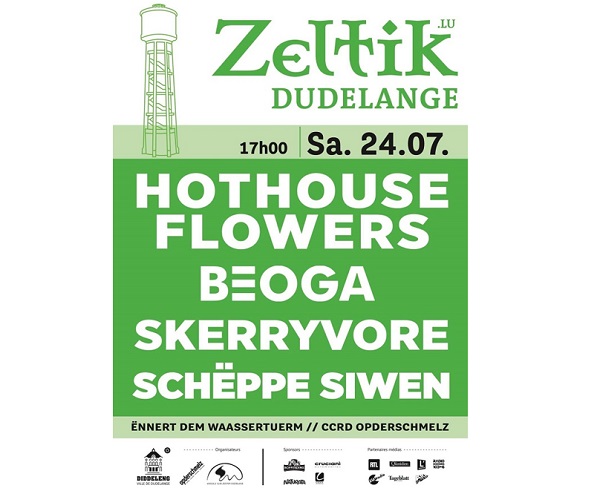 Details:
The Zeltik festival, which was postponed this spring due to the pandemic, will go ahead this summer on 24 July 2021 at the Opderschmelz cultural centre in Dudelange.
The headliner at this edition of the Zeltik festival, the only festival in the Greater Region dedicated to Celtic music, will be Irish rock group Hothouse Flowers.
Programme:
18:00 Schëppe Siwwen, a folk-rock band from Luxembourg with Celtic influences
19:10 Skerryvore, a rock music ensemble from Scotland that draws its power and beauty from tradition
20:30 Beoga, an Irish folk band with a spirit of adventure and a passion for little-known music
22:00 Hothouse Flowers, an Irish rock group that combines traditional Irish music with influences from soul, gospel and rock.
Something amazing happens when the Hothouse Flowers take the stage - something that has been shaped by over thirty years of singing and playing around the world, and yet no show is alike! There is a sense of musical adventure, a drive to reach new heights and new depths in music, where the unspoken goal is for the band and the audience to become one and the world to become different for a moment.
Pre-sale tickets for the festival will go on sale this afternoon (Tuesday 2 June 2021). Further information will be available soon on www.zeltik.lu.
The Zeltik festival traditionally takes place in March each year, around the Saint Patrick's Day celebrations, in Luxembourg.
Venue: Opderschmelz cultural centre, Dudelange
Organiser: Zeltik; Ville de Dudelange; Opderschmelz
Price: See website
Reservations: See website