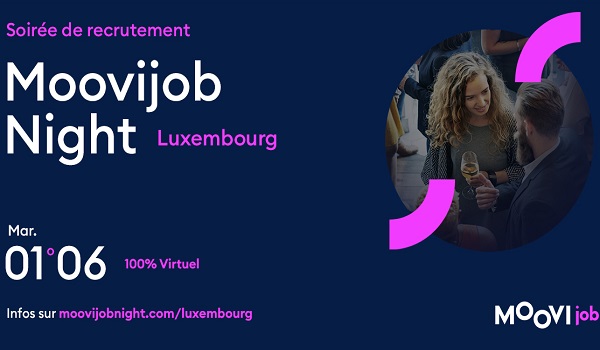 Details:
Job board and organiser of the main recruitment events in Luxembourg, Moovijob, is organising the 10th edition of the virtual "Moovijob Night Luxembourg" on Tuesday 1 June 2021, from 18:00 to 22:00.
This year's edition will bring together around 20 carefully selected Luxembourg companies in the IT and finance sectors to meet profiles related to their recruitment offers, exchange with them and discuss projects.
Organised for ten years now, this recruitment evening created by Moovijob has become a reference for highly qualified profiles in the Luxembourg job market. Professionals from the IT (consulting, development, infrastructure, system, network, etc.) and finance (insurance, banking, consulting, audit, law, accounting, controlling, tax and investment funds) sectors are invited to register on the official website of the event to be able to participate in this virtual evening and meet recruiters live, through personalised interviews.
Major international groups such as KPMG and Randstad have already confirmed their participation, as well as key players in the local economy such as POST Luxembourg and CFL, Luxembourg's railways. The ADEM and EURES employmenet agencies will also attend to advise participants on their job search in Luxembourg.
With a brand-new virtual solution implemented at the beginning of the year, Moovijob wanted to ensure the safety of all by offering a 100% online event. The platform has been optimised to allow participants to behave as closely as possible to a physical meeting, with face-to-face interviews, queues and visits of the stands. Recruiters have the possibility to see the candidates' CVs before starting the discussions. All these features will be accessible on the same platform.
It should be noted that this evening is on a selection basis; only candidates who match the profiles sought by the companies will be invited. Registration is thus mandatory and must be done before Monday 31 May 2021 at 16:00. For further information and to register, visit www.moovijob.com/evenements/moovijob-night/luxembourg.
Venue: Online
Organiser: Moovijob
Price: n/a
Reservations: See above