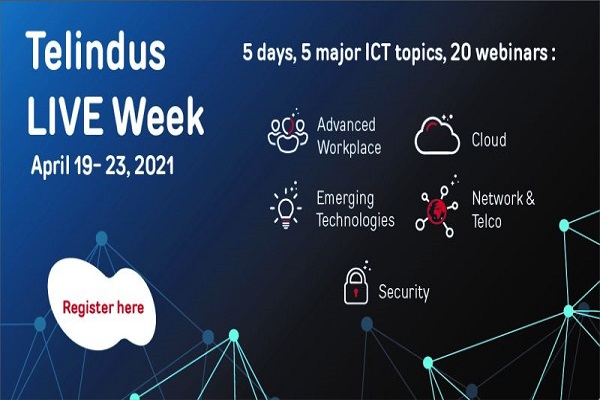 Details:
Telindus, a leader in convergent ICT and telecom services for businesses in Luxembourg and the Netherlands, is organising the online event "Telindus Live Week" from 19 to 23 April 2021.
Digital transformation is a focus area of any industry today. Increased IT technology abstractions allows companies to focus on their core business and to deliver products and services in a shorter time. However, creating a perfectly integrated and secured technology stack, allowing to serve the business in the best possible way, can be a complex undertaking and needs a global ICT overview and strategy.
This five-day event comprises 20 presentations and interactive sessions with 30 experts aimed at providing participants with the necessary information to make the right technology choices. Attendees will have the opportunity to participate in several panels and webinars, as well as interacting with experts in private meetings.
Topics covered include hybrid cloud, containerisation, DevOps, software-defined networking (SDN) technology, robotic process automation (RPA), artificial intelligence (AI) and cybersecurity, among others.
Day 1 is dedicated to "Network & Telco"; Day 2 will focus on "Cloud"; Day 3 will address "Security"; Day 4 will look at "Emerging Technologies"; Day 5 is dedicated to "Advanced Workplace".
For further information, including the full programme, a list of speakers and registration details, visit www.telindus.lu/en/events/telindus-live-week-event#EventRegistrationSection.
Venue: Online (Hopin)
Organiser: Telindus
Price: n/a
Reservations: See above