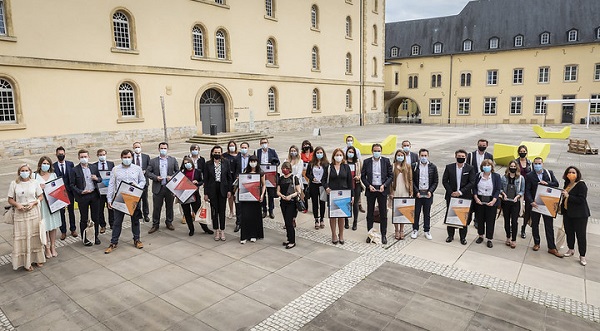 Credit: Great Place to Work®
Great Place to Work® has unveiled the names of the top thirteen companies where it is good to work in Luxembourg, as chosen for the 2021 edition of the Best Workplaces® awards.
Each year, the Great Place to Work® Institute rewards the best organisations where it is good to work across nearly 100 countries. In 2021, the institute selected thirteen companies in Luxembourg which have managed to maintain and offer a pleasant work environment for all despite the COVID-19 crisis.
For this 11th edition, the institute opted for a hybrid format to broadcast its annual conference from Neumünster Abbey (neimënster) on 3 June 2021. Around 40 participants attended the conference and award ceremony in person, whilst another 100 people joined via direct broadcast on social networks.
The event began with a conference on the theme "The company in the post-COVID era: what do employees aspire to?". Françoise Thoma, Chief Executive Officer (CEO) of Banque et Caisse d'Epargne de l'​Etat (BCEE / Spuerkeess), and Wilfrid Lagrange, Country Manager (Luxembourg) at Devoteam, shared their thoughts and experience on this complex but topical subject.
The winners of the Best Workplaces™ awards highlighted the main trend of surveys conducted by Great Place to Work® between March 2020 and March 2021: overall results did not fall, but actually rose by 5% compared to 2020. The Great Place to Work® assessment is based on two complementary tools that make it possible to get the perception of employees through the Trust Index™ satisfaction questionnaire and to take stock of the reasons that make the company assessed one where it is good to work, even in 2021, through the Culture Audit™ file.
According to employees who work at a company with the 2021 Best Workplaces™ label: 94% said that new employees were welcomed; 94% said that management managed the company honestly and respected ethical rules; 92% said they were proud to tell others that they worked for this company.
Winners
Small enterprises (20-49 employees):
REAZN
GSK Stockmann
Medium-sized enterprises (50-99 employees):
System Solutions Luxembourg SA
Mixvoip
Pictet Technologies
AkaBI
Talan
Large enterprises (100+ employees):
CTG IT Solutions
ATOZ
InTech
Devoteam
Cocottes
The Adecco Group