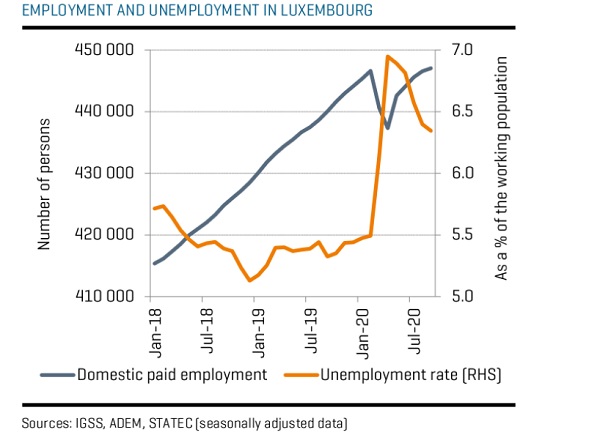 Credit: IGSS / ADEM / STATEC (seasonally adjusted data)
In its latest publication on the state of the Luxembourg economy, STATEC confirmed that employment returned to its pre-crisis level in September 2020.
Employment in the Grand Duchy has been largely affected by the crisis, but much less than in other European countries.
According to preliminary figures, Luxembourg employment returned to pre-crisis levels in September 2020, both in terms of paid employment and self-employment and for both residents and cross-border workers.
There were, however, major differences at the sectoral level. On the one hand, around 3,000 jobs were lost between February and September 2020 (a drop of 1.5%) in the sectors hardest hit by the health crisis (hotel and catering, retail, industry, transport, business services and temporary work). On the other hand, over 3,000 jobs (up 1.6%) were created over the same period in the healthcare and social welfare sector, education, public administration, construction, ICT and the financial sector.
According to STATEC, this development means that Luxembourg has fared better than other euro area countries and this applies to added value, as well. In the second quarter of 2020, the drop in employment in the Grand Duchy (down 0.6% over one quarter) seems limited compared to the contraction in employment in the euro area (down 2.9%) and in neighbouring countries (down 2.6% in France, 1.4% in Germany and 0.8% in Belgium).
In spite of a gradual recovery, employment prospects among businesses remained exceptionally low up to October 2020. Over 150,000 people (34% of paid employment) were in partial employment in April, a number that fell to just under 25,000 in September and October (5%). However, partial unemployment remains well above the 1,000 people registered before the health crisis broke out.