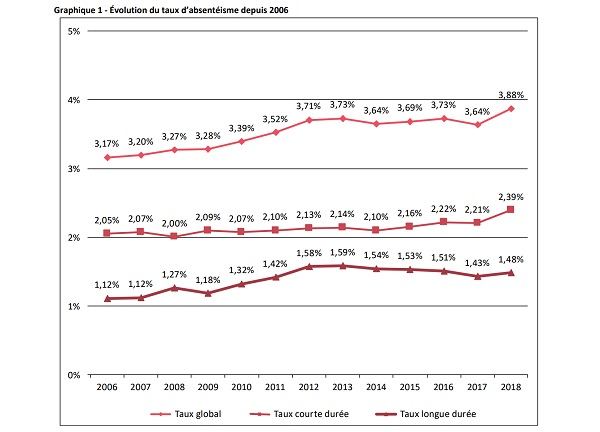 Credit: Ministry of Social Security
Absenteeism in the workplace has increased by 6.6% over one year, according to statistics published on Friday by the Luxembourg Ministry of Social Security.
The annual report showed that the absenteeism rate increased from 3.64% to 3.88% (+6.6%) between 2017 and 2018. Within that percentage, the number of employees who were absent due to illness rose to 55.5% (compared to 53.4% in 2017).
Regarding the length of absence, employees were absent more often last year (2.69 occasions on average versus 2.61 in 2017) but for fewer days compared to 2017 (7.97 days per absence on average compared to 8.10). In addition, both the long-term and short-term absentee rates increased in 2018. The former went from 1.43% to 1.48% (+3.8%) - the first increase since 2013 -, an increase explained by a larger number of absences lasting more that three weeks (rather than an increase in their average duration). Similarly, short-term absenteeism rose from 2.21% to 2.39% (+8.4%) because of an increase in the number of absences (mainly explained by the unusual length of the flu epidemic).
Regarding the medical reasons for absences, most sick days were the result of absences related to osteoarticular diseases among resident employees in 2018 (accounting for 16.5%). Mental and behavioural disorders, which accounted for 16.4%, were the main cause of long-term absences (more than 21 days), whilst infectious or parasitic diseases accounted for 14% of sick days and remained the main cause of short-term absences.
Finally, the direct costs of absenteeism rose 12.6% between 2017 and 2018, from €618.7 million to €696.4 million.