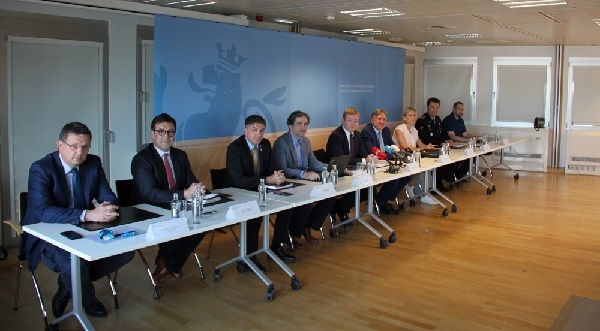 Credit: MFP
The Luxembourg Government has signed agreements with representatives of the National Union of Grand Ducal Police (SNPGL), the Association of Senior Police Officers (ACSP), the Union of Civilian Staff of the Grand Ducal Police (SPCPG) and the Union of the General Confederation of the Civil Service (CGFP) concerning working hours in the police service.
Luxembourg Minister of the Public Service Marc Hansen and Minister of Homeland Security François Bausch yesterday presented these agreements that have been reached on working and rest time in the Grand Ducal Police as well as on compensation for certain constraints related to the organisation of working hours.
Taking into account the specific tasks and constraints of the Police and the possibilities and limits provided for by Directive 2003/88 / EC of the European Parliament and of the Council of 4 November 2003 on certain aspects of the organisation of working time, the signatory parties agreed on how to implement maximum weekly and daily working hours, night work, break time and weekly rest.
In addition, the signatories decided to increase the hourly rate of the on-call bonus by 10%, to double the amount of the home-assistance allowance and to compensate for the constraints linked to very short-term changes to work organisation plans and work in successive teams. The latter is not limited to members of the Police, but also applies to all concerned public officials.
The key element of these agreements was the police recruitment plan that will be developed for the years 2020 to 2023.