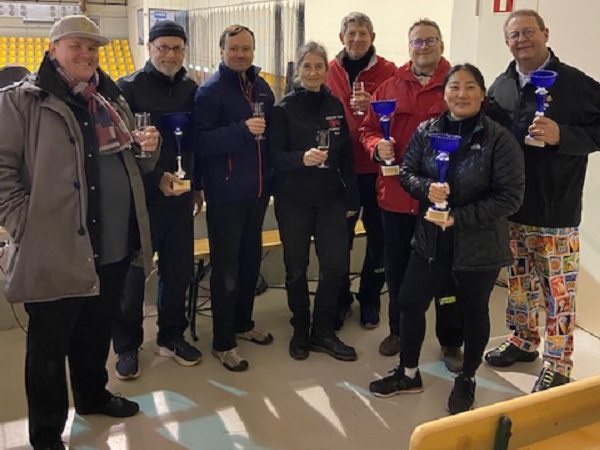 (L-R): Jean CHAMPAGNE, Marco ETIENNE, Maja GILDHOFF (captain), Alex BENOY; Credit: Curling.lu
On Sunday 17 November 2022, Curling Luxembourg held its 2022 edition of its Couple de Luxembourg, with Team Maja GILDHOFF winning outright.
The competition was close and the win came with the very last stone in this year's Coupe de Luxembourg. Team Maja GILDHOFF comprised Jean CHAMPAGNE, Marco ETIENNE, Maja GILDHOFF and Alex BENOY. Starting at 10:30 at the ice rink in Kockelscheuer, the day-long event concluded at 17:00 when the prize-giving ceremony took place. The teams had been decided by a draw beforehand.
Playing best of 3, Team Barry Foulds, Daniel Schweich, Karen Wauters and Claude Schweitzer won 7-2 in the morning and were leading 4-2 after five ends in the second game, when they got 4 stones against them in the last end and lost 4-6.
A third game was necessary and again they were leading 7-5 after 5 ends in a very exciting game; however, they lost 3 points with the very last stone in the 6th end (7-8), giving the close win to Team Maja GILDHOFF.
All participants enjoyed the excellent ambiance on and off the ice and finished the afternoon with a Verre de l'Amitié on the VIP Balcony at the ice rink at Kockelscheuer.