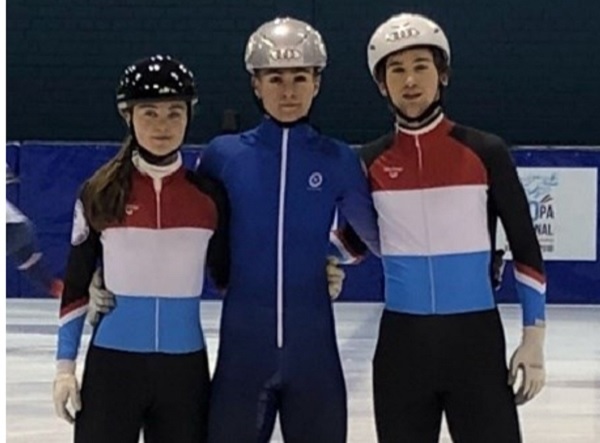 The Luxembourg speed-skaters have continued to enjoy a busy season, with various events over the past few weeks and more in the coming weeks, culminating in the National Championships on 22 April.
Regiofinale in Utrecht (NL) on 17 March
Jimmy & Julie Kiesgen and Elisa Aulamo represented Luxembourg in the Regional Final, which brings together the best U14s from Netherlands, Belgium and Luxembourg. All skated well, with Jimmy very close to the podium.
- Boys Pupillen (U14): Jimmy Kiesgen, 5/24, 500m 3rd, 333m, 35.432s (PB)
- Girls Pupillen (U14): Julie Kiesgen, 16/22, 333m 40.886s (PB); Elisa Aulamo, 21/22
Europa Cup Final in Ventspils (LV), 23-25 March
The following weekend the Europacup Final, or European Junior Championship, took place, with Peter & Caroline Murphy and Augustin Géré competing against the best Juniors from all over Europe. Although none of the Luxembourg skaters made the podium, all were able to show that Luxembourg skaters are well placed against their European peers.
- Boys Junior A (U20), Peter Murphy 12th
- Girls Junior B (U18), Caroline Murphy, 12th
- Boys Junior B (U18), Augustin Géré, 14th
Next Competitions
- Easter Cup, Gent (B), 31 March – 1 April
- Closing Games, Turnhout (B), 7 April
- National Championship, Kockelscheuer (L), 22 April