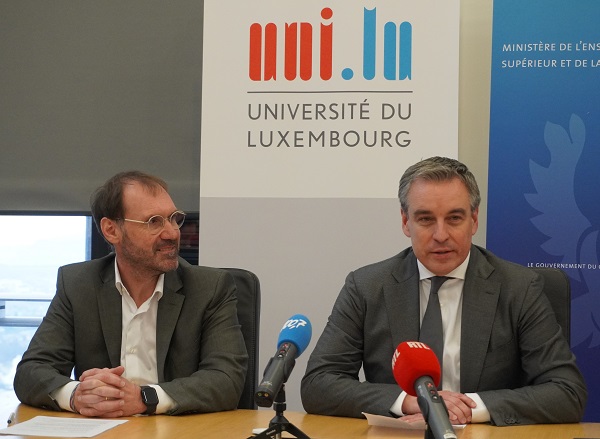 (L-R): Jens Kreisel, rector at the University of Luxembourg; Minister Claude Meisch; Credit: MESR
On Thursday 19 January 2023, the Ministry of Higher Education and Research and the University of Luxembourg held a press conference at which the new rector of the university, Jens Kreisel, was presented to the journalists in attendance.
Claude Meisch, Minister of Higher Education and Research, and Massimo Malvetti, Secretary General of the Board of the University of Luxembourg, were joined by the new rector, Jens Kreisel, who started his 5-year term (which can be renewed once) on 1 January 2023.
Jens Kreisel, born in 1969 in Dortmund, Germany, studied physics and materials science in Karlsruhe (D), Lyon (F) and Grenoble (F), and in 1999 obtained his doctorate in materials physics at the Polytechnic Institute of Grenoble (Grenoble INP). After a post-doctorate at the University of Oxford (GB), he continued his international career in Grenoble, where until 2011 he was research director at the CNRS (National Center for Scientific Research).
From 2006 to 2011, he also acted as adviser to the president of Grenoble INP, then he was appointed deputy vice-president of international relations of the institution. During a sabbatical year, from 2011 to 2012, he was a Fellow of the Institute of Advanced Studies at the University of Warwick, UK.
In 2012, Jens Kreisel moved to Luxembourg and became the founding director of the Materials Research and Technology department at the Luxembourg Institute of Science and Technology (LIST). In 2013, he received from the Luxembourg National Research Fund (FNR) an Excellence Award for Research in Luxembourg (PEARL), endowed with €5 million.
In September 2018, he was appointed Vice-Rector for Research at the University of Luxembourg and Full Professor in Physics and Materials Science.
Jens Kreisel, author of more than 150 scientific publications, has also acquired, throughout his career, substantial experience in the management of universities and research institutions.
Minister Meisch stated "In addition to being an eminent scientist and passionate teacher and mentor, Jens Kreisel has demonstrated as vice-rector for research that he is also an excellent manager. Consequently, I welcome this appointment, which is conducive to the continued development and sustainability of the excellence of the University of Luxembourg, both in terms of research and teaching."
On behalf of Yves Elsen, Chairman of the university board, Massimo Malvetti (Secretary General) stated "The candidacy of Prof. Jens Kreisel stood out as the best after an international recruitment. The Governing Council is delighted to place its trust in an inside member of the University community. Former holder of a PEARL chair from the National Research Fund and outgoing Vice-Rector for Research, Prof. Jens Kreisel has a deep knowledge of the University and the country. His national and international experience qualifies him perfectly to lead the only public university in the Grand Duchy of Luxembourg."
Jens Kreisel, the new rector, stated "Our young university can already look back on a success story for Luxembourg and it is full of ambition. It is an honour and a privilege for me to continue to write this history, to promote and stimulate cutting-edge international research, innovative teaching and service to society."
In accordance with the amended law of 27 June 2018 relating to the organisation of the University of Luxembourg, Jens Kreisel is the first rector appointed directly by the board. Prior to this law, the rector was appointed by the Grand Duke on the proposal of the board