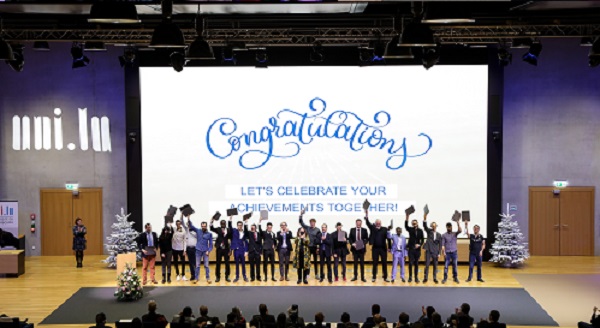 Credit: University of Luxembourg
The University of Luxembourg has announced that it recently conferred over 1,850 diplomas for the 2020/2021 academic year.
A series of graduation ceremonies took place between 14 and 16 December 2021 for the Bachelor, Master and University of Luxembourg Competence Centre (ULCC) graduates who completed their studies during the past academic year.
Around 640 Bachelor and 600 Master students graduated from the University of Luxembourg in 2021. Over 150 doctoral candidates graduated from the four doctoral schools. An additional 470 students obtained certificates for vocational or lifelong learning courses, while 30 graduated from the ULCC.
The ceremonies also provided an opportunity to acknowledge students' resilience during the COVID-19 pandemic. Rector Prof. Stéphane Pallage stated: "We celebrate your success and all the possible paths that open before you. Know that they are as wide and as abundant as you want them to be. If you have the means to change ineffective behaviors around you, do it. If you have the tools to shape a better future, do it. Be heroes for your children, for your loved ones, for your friends, for your country. A different life begins here".
"You owe this important milestone to your courage in overcoming the challenging times of the pandemic crisis. You have managed to reach your academic objectives, focusing on your goals and your dreams", added Catherine Léglu, Vice-Rector for Academic Affairs.
Each faculty held its respective graduation ceremony, with nearly 360 students graduating from the Faculty of Science, Technology and Medicine, over 940 students graduating from the Faculty of Law, Economics and Finance and 520 students graduating from the Faculty of Humanities, Education and Social Sciences. A number of graduates also received awards for outstanding achievement.
This year's graduates are now members of the University of Luxembourg's Alumni network.