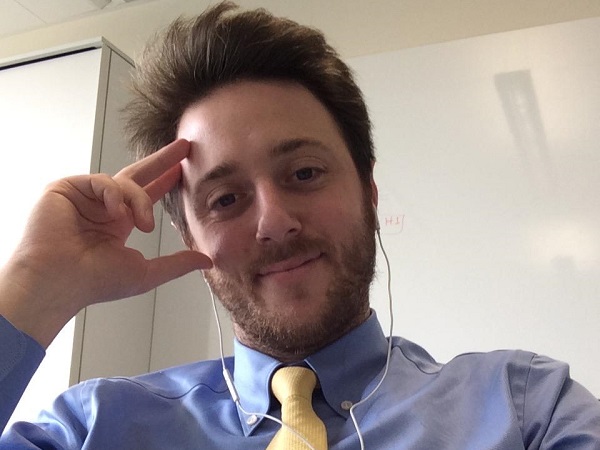 Dr Carmine Gabriele; Credit: University of Luxembourg
The University of Luxembourg announced today that it is celebrating an important milestone of its doctoral education: the graduation of its 1,000th doctoral candidate.
Recently graduated Dr Carmine Gabriele completed his thesis "Essays on Financial Stability" at the Faculty of Law, Economics and Finance, under the supervision of Prof. Thorsten Lehnert.
Dr Gabriele completed his doctor's degree while working full-time as an economist at the European Stability Mechanism (ESM) in Luxembourg, an international financial institution providing financial assistance to EU countries.
The recent graduate commented: "During my first year at ESM, I realised that a doctor's degree would provide an additional sound base for my career development. I am grateful to the University for giving me this opportunity. And I am fortunate to celebrate this milestone".
Dr Gabriele's research on financial stability has immediate relevance for the industry and his employer. His findings contribute to a better understanding of aspects related to financial stability, such as early warning systems for systemic banking crises, macro-financial determinants of non-performing loans and the impact of sovereign refinancing needs on market perceptions of sovereign risk.
Prof. Lehnert explained: "His doctoral thesis is outstanding, not only from an academic, but also from a policy perspective, because he empirically investigates highly relevant topics, using state-of-the-art methodology".
Doctoral education is one of the University of Luxembourg's central elements. Since the university's foundation in 2003, doctoral education has developed considerably. The first nine PhDs graduated in 2006/2007. The numbers grew steadily in the following years; today, more than 900 doctoral candidates are registered at the university. Doctoral education is also a central element of collaboration in Luxembourg, as over 100 doctoral candidates are registered at the University, while completing their doctorate at one of the national institutes: Luxembourg Institute of Science and Technology (LIST), Luxembourg Institute of Health (LIH) or Luxembourg Institute for Socio-Economic Research (LISER).
Commenting on this milestone, Prof. Jens Kreisel, Vice-Rector for Research of the University, said: "The 1,000th doctoral graduate is a proud milestone, for our young university. The contribution of doctoral candidates to the university's positioning as a Research University cannot be overstated. This specific thesis also symbolises how cutting-edge research can impact the Luxembourgish ecosystem".
Dr Gabriele's current function at ESM entails building analytical tools to better monitor the macroeconomic and financial environment; he works on research papers and is responsible for monitoring the Irish economy from the perspective of a creditor.
The official conferment of the title will take place during the university's Graduation Week in December 2020.