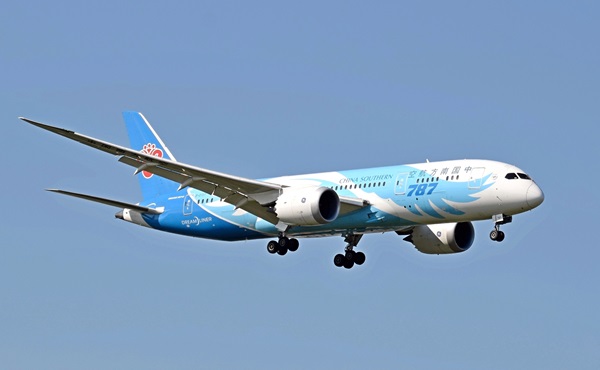 China Southern Airlines have confirmed that they will start the first-ever direct flights to/from Luxembourg on 21 December 2023.
Flying from Zhengzhou Xinzheng International Airport in Henan province in central China, the weekly flights to/from Luxembourg will be operated by Boeing 787 Dreamliner aircraft which have a capacity of 242-290 passengers (up to 410, depending on the layout/configuration deployed).
China Southern Airlines already flies to/from other European destinations which include Frankfurt, Amsterdam, Paris and London.
China Southern Airlines Henan Airlines Co. Ltd. announced the news on 8 November 2023, holding a meeting addressing the new Zhengzhou-Luxembourg and Zhengzhou-London routes, announcing that the Zhengzhou-Luxembourg "Air Silk Road" passenger route would be opened on 21 December and that the Zhengzhou-London route would be resumed on 12 December. According to the airline, the opening of these two direct passenger routes to Europe will build a more convenient air bridge for economic and trade exchanges and cultural exchanges among the three regions, and is of great significance for Henan Province to actively integrate into the construction of the "One Belt, One Road" policy.
The Zhengzhou-Luxembourg route will be operated once a week on Thursdays, with the flight taking off from Zhengzhou Airport at 14:50 (Beijing time) and arriving at Luxembourg Airport at 19:00 CET; the return flight will take off from Luxembourg Airport at 15:00 CET on Fridays and arriving at Zhengzhou Airport at 08:10 (Beijing time) on the following day.
The resumed Zhengzhou-London route will operate twice a week on Tuesdays and Saturdays.
In a collaboration with the Automobile Club of Luxembourg (ACL) using these new flights, Euro-Asie, a tour operator based in Steinsel, will be organising a total of sixteen fourteen-day trips to China from May to November 2024.