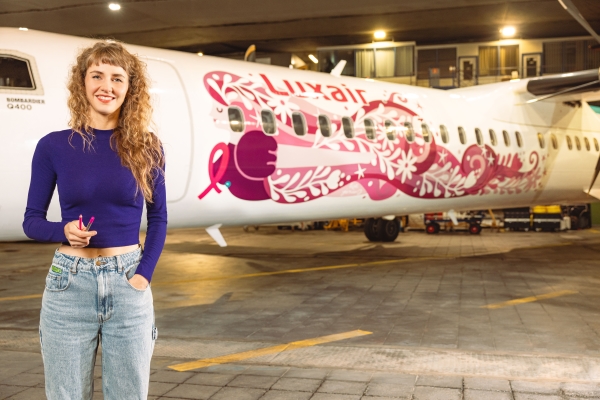 Credit: © Luxair
On Wednesday 28 September 2022, Luxair unveiled the new special livery of its De Havilland Q400 aircraft, registered LX- LQJ, covered in shades of pink, on the occasion of Breast Cancer Awareness Month.
Luxair works alongside local organisations in favour of social causes such as Femmes en détresse, Rosa Lëtzebuerg, etc., and this year, to promote premature breast cancer early detection and screening, has chosen to partner up with Think Pink, a Luxembourg charity organisation founded in 2009, and to offer its employees free awareness-raising webinars about self-screening.
To highlight this collaboration, the airline collaborated with Lisa Junius, a multidisciplinary artist, to temporarily change the Luxair brand identity from blue to pink. Luxair recalls that this is only the third time since the creation of the airline that Luxair has lent its brand and its colors to change. The airline dressed up in orange in reference to the International Day for the Elimination of Violence against Women on 25 November 2020 and in the colors of the rainbow in June 2021 for Pride Month.
In addition to its new livery, Luxair is launching a range of dedicated mugs bearing the designs of Lisa Junius, which will be available to customers from 1 October 2022 in the Luxair Travel Stores located at Luxembourg Airport and in Munsbach, 25 rue Gabriel Lippmann. The profits from the sale of these mugs will be entirely donated to the Think Pink charity organisation.