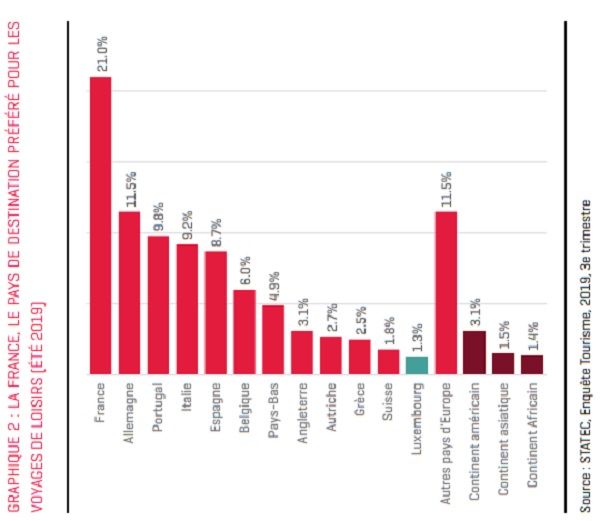 STATEC, Luxembourg's national statistics office, has published details of a according to a Tourism survey concerning holiday cancellations as a result of the COVID-19 pandemic.
46% of Luxembourg residents cancelled at least one leisure trip because of the crisis. They has paid in advance for 59% of cancelled trips.
As of mid-June, only 11% of prepaid stays had not yet been compensated, whether in the form of a refund, voucher or deferral.
The good news for households is that 65% of cancellations resulted in no financial consequences for them. For 36% of trips, all expenses incurred were reimbursed. In 29% of cases, the trip was replaced or postponed. However, for 14% of cancelled trips, the reimbursement covered only part of the costs incurred, the rest being the responsibility of the customer.
Finally, for 11% of cancelled stays, service providers had, at the time of the survey, not yet compensated the customers concerned. Insurance companies took over in just 2% of cases, reimbursing part of the costs. For the other trips, in almost half of the cases (49%), the customers bore the costs and, for the other half, the cases are still awaiting decisions.
Summer habits: some figures for summer 2019
Normally, Luxembourg residents travel a lot. Looking at tourism practices of the past year, 79% of residents took at least one leisure trip during the summer. 99% of trips take place abroad. Border countries are frequent destinations; they account for 43% of residents' summer stays.
21% and 11% respectively represent trips taking place in France and Germany. However, the French and, to a lesser extent, German tourist regions are, for the most part, geographically far from Luxembourg. Trips outside Europe are rather rare: 6% of summer trips (11% of overnight trips).
This summer, will residents favour family visits over more traditional hotel or rental vacations? In 2019, 24% of summer stays were mainly with relatives or friends. Also, second homes, which are a relatively safe place in the times of the pandemic, are likely to be used more this summer. In summer 2019, 10% of stays were in a second home.
STATEC also expects a sharp decline in air travel, which is the second most used mode of transport for trips behind the private car. Continental and local destinations will experience a revival, but to what extent?