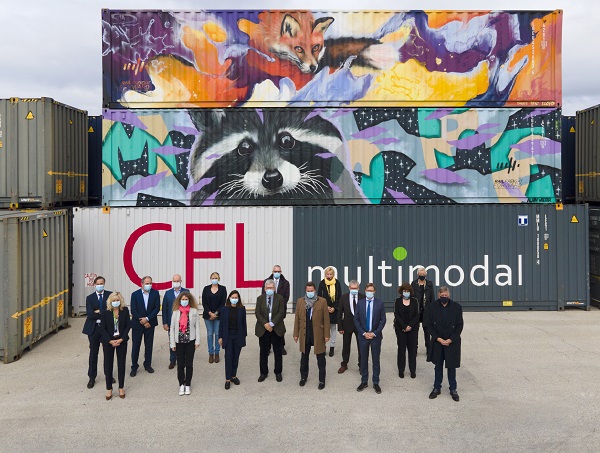 On Wednesday 30 September 2020, Luxembourg's Prime Minister Xavier Bettel and Deputy Prime Minister François Bausch visited the intermodal site of CFL multimodal and CFL cargo, which provides national and international rail freight transport.
The multimodal hub in Dudelange-Bettembourg unites infrastructures, services and equipment combining technology, safety and performance, providing connections to the main European ports and economic centres. The multimodal hub in Bettembourg connects Luxembourg and the Greater Region to the rest of Europe by road and train with access to the French, Italian, Turkish, Spanish, German and Eastern European, British and Scandinavian markets. Whilst the country does not have direct access to the coast, this hub connects to many major European ports such as Antwerp, Zeebrugge and Kiel in the north and Barcelona or Trieste in the south.
After a presentation of the site and related activities, in the presence of members of the board of directors and management and those in charge of the logistics unit, the Prime Minister and Deputy Prime Minister took part in a guided bus tour of the multimodal terminal. Prime Minister Xavier Bettel was particularly interested in the situation of the two companies during and after the COVDID-19 lockdown and thanked all those involved, especially the employees who participated in the crisis unit, for their commitment and performance.
Ministers Xavier Bettel and François Bausch also took part in a demonstration of the loading of a semi-trailer on the rail motorway platform. They later explored the secure road centre (centre routier sécurisé - CRS), reserved only for heavy vehicle drivers using Eurohub Sud, and ended their visit in front of the Luxembourg containers of Noah's Train.