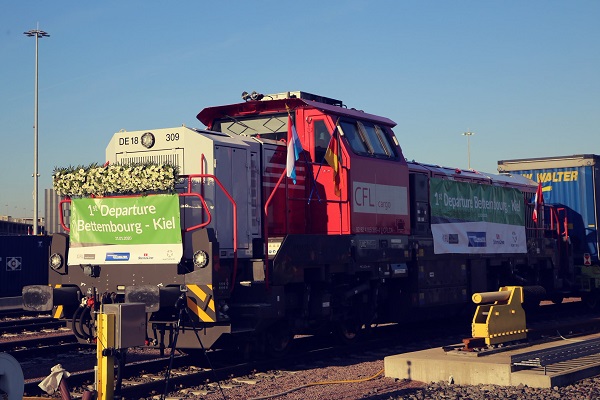 Credit: CFL multimodal
CFL multimodal has launched a new rail freight connection between Bettembourg-Dudelange in Luxembourg and Kiel, a port city in northern Germany near the Danish border which serves the Baltic Sea.
LKW WALTER, Stena Line, Port of Kiel and CFL multimodal announced the news yesterday, following the successful conclusion of a partnership agreement to expand their respective service offering. Launched on Tuesday from Bettembourg-Dudelange, this new rail freight connection will run three round trips per week for craneable trailers and containers, between the intermodal terminal of Bettembourg-Dudelange to the Terminal Schwedenkai in the Port of Kiel.
The partners have expressed their belief that this regular intermodal service, connecting the Luxembourg area as well as existing trains (Lyon, Le Boulou and Barcelona) to the Port of Kiel and its ferry lines to Göteborg will boost the development of global European intermodal solutions.
This new train will foster modal shift, allowing the transfer from road to rail of up to 10,000 lorries and CO2 savings of about 11,000 tonnes per year.