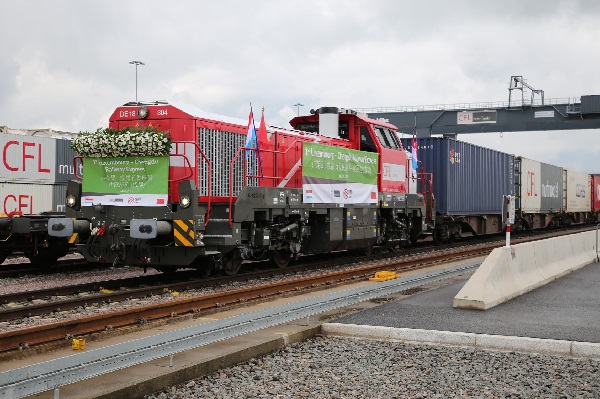 Credit: CFL Multimodal
Today, Thursday 4 April 2019, saw the inauguration of the first international freight rail connection between Luxembourg and Chengdu.
The train will depart from Bettembourg-Dudelange Intermodal Terminal towards Chengdu Qingbaijiang International Railway Port, crossing Germany, Poland, Belarus, Russia and Kazakhstan. It will enter the Chinese territory in Alashankou and finally arrive at the Chengdu Qingbaijiang International Railway Port in the space of fifteen days.
With this new connection, the Intermodal Terminal of Bettembourg-Dudelange helps strengthen the intermodal offer between Europe and China, as a consolidation hub for South Western Europe. Simultaneously, Chengdu International Railway Services (CDIRS) improves further its coverage in the hinterlands of Europe as well as its service quality.
Present at the launch of the Luxembourg-Chengdu connection were Yin Li, Governor of the Sichuan Province, and Félix Braz, stepping in for Luxembourg Minister for Mobility and Public Works François Bausch, as well as shippers and logistics service providers. Félix Braz described the connection as "the result of long discussions with different Chinese partners and certainly a huge milestone in Luxembourg's railway history as well as the partnership between China and Europe."
The train, launched today, carries 41 containers loaded with food, medical equipment, electronics, hardware, ceramics and daily consumer goods, among other things.
Located on the Rail Freight Corridor 2 and at the crossroads of the North-South and East-West routes, the Intermodal Terminal of Bettembourg-Dudelange is ideally positioned to act as an international hub for the consolidation of multimodal transport flows between South Western Europe and China. From 31 trains launched in 2013 to 1,595 trains in 2018, Chengdu, for its part, has topped the EU-China rail platform companies for the third consecutive year.
CFL multimodal and CDIRS have commonly expressed the intention to optimise the operations and set-up a regular connection in both directions in the coming weeks. Both parties will also ensure the implementation of the agreements reached between the two countries.