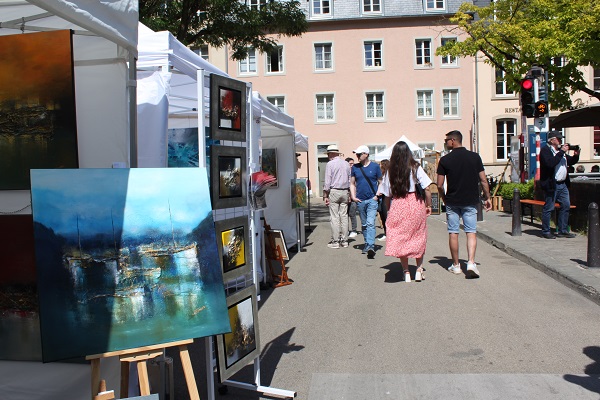 Credit: Otilia Dragan/Chronicle.lu
The June edition of the "Konscht am Gronn" (Art in the Grund) open-air gallery took place on the afternoon of Sunday 4 June 2023 in Luxembourg-Grund.
The blue sky and warm weather made for an enjoyable backdrop for this varied art exhibition where some twenty-odd local artists (from Luxembourg, France and Germany) exhibited their creations. This was an occasion to stroll along the scenic bridge down the rue Munster among brightly coloured paintings, both abstract and representative, drawings, photography but also sculptures in mixed materials, ceramics, as well as stone and wood working. A small part of the space was dedicated to second-hand clothes and accessories stands.
This was a prime occasion to talk to the creators and support the local arts scene, to discover unexpected gems, new artistic methods and learn about potential workshops or simply get inspired.
"Konscht am Gronn" was founded in 2006 by the Luxembourg-Grund union ("Syndikat vum Stadgronn") to bring artistic life to the Grund district.
This year, the next "Konscht am Gronn" events will take place on the following Sundays: 2 July, 6 August, 3 September and 1 October 2023. Entry is free.