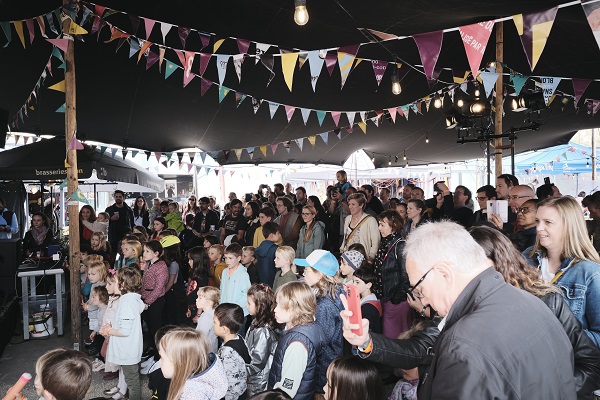 Pogo Loko; Credit: © Eric Engel
After a three-year COVID-19-related absence, the PICelectroNIC family-friendly festival will return to Rotondes in Luxembourg-Bonnevoie on Saturday 22 and Sunday 23 April 2023.
The festival will feature a host of musical performances, interactive educational installations and creative workshops.
In the courtyard, visitors will find the "PolderCoaster", a low-tech interactive rollercoaster. At the Plateforme, they can check out the "Beauty Salon" for a touch of phosphorescent makeup (including for cuddly toys), before heading over to the Klub to listen to the music of JOUBe and his bicycle or get moving on the "Silent Disco" dance floor.
In Rotonde 1, visitors can check out the "drawn concert" (concert dessiné), which will bring together on stage the Luxembourg duo First Mote (seen at Congés Annulés in 2022) and illustrator Marie Lavis, who produced the Tandem Running flipbook, published by Rotondes in January 2023. The main hall (Grande Salle) will host other styles and sonic journeys with homemade percussion by Dario Rossi and the South American handcrafted instruments of Facundo Salgado (Rumbo Tumba).
Also on the agenda is a small traffic jam session with "Museklabo" participants, who will be equipped with their converted worksite objects.
Opening hours
Saturday 22 April: 14:00 to 19:00
Sunday 23 April: 10:00 to 18:00
The complete festival programme is available online at https://www.rotondes.lu/fr/agenda/picelectronic.
A one-day pass costs €12; a weekend pass costs €20. Entry is free for children under the age of three. Tickets are available via email: tickets@rotondes.lu or via tel.: 2662-2030 (Tuesday to Friday, 13:30 to 18:30).