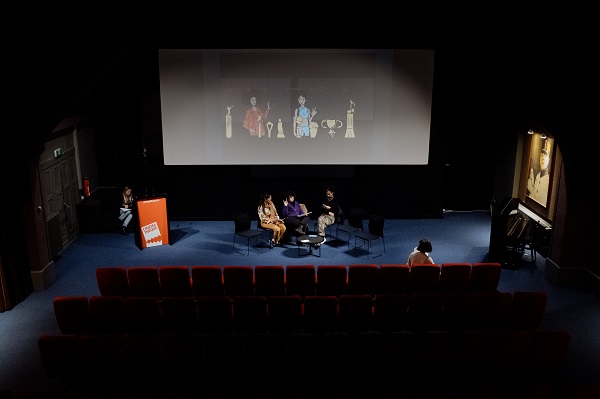 Credit: About to... BOOM!
Luxembourg-Spanish filmmaker Bianca Jaeger Montobbio will present her new film project "About to... BOOM!" at a free launch event at the Cinémathèque in Luxembourg-Ville on Wednesday 1 March 2023 at 16:40.
''About to... BOOM!'' is a comedy feature film script written by Bianca Jaeger Montobbio. The launch event consists of a reading of certain scenes from the script by the following six actresses in English, French and Luxembourgish: Céline Camara, Magaly Teixeira, Mimi Corselitze, Olivia Jacoby, Shari Weirig and Rosalie Maes. This will be accompanied by a presentation of the storyboard and followed by the premiere of Bianca's latest short film Kann ech iech weider hëllefen?
"About to... BOOM!" is about how reproduction and motherhood affect everyone, on the one hand, and about how everyone deserves the chance to go after their dreams, on the other hand. It tells the story of former secondary school friends Bai, Alfie, Denim, Pallavi and Viva who, after experiencing the downsides of the female condition, decide to go on one last rebellious adventure by setting up a pregnant punk band named M.I.L.F.
Chronicle.lu had the opportunity to speak with Bianca Jaeger Montobbio about her new project, which has received financial support from the Oeuvre Nationale de Secours Grande-Duchesse Charlotte, ahead of the launch event.
Chronicle.lu: What can you tell us about the origins of this project and the event on 1 March?
Bianca Jaeger Montobbio: The idea for ''About to... BOOM!'' started pre-pandemic during the Talent Campus residency of the London Screenwriters Festival, where I was selected to further develop my screenwriter's portfolio. Until then, I'd worked on numerous other projects (short, corporate, feature and series) as part of the technical crew both in Spain, London and Luxembourg. The Talent Campus was the first step to enable me to focus on my stories. In the film industry, it is very common to start working on other positions first for experience and making contacts and seconds to make ends meet. The director and author position is not a first-entry level type of job.
1 March will be the launch of the project. It consists in a lively lecture of excerpts of the script. The scenes of the 1st act are in English, the ones of the 2nd act in French and the 3rd act in Luxembourgish. An ''actors script read'', also named a ''script table read',' is commonly the first time the whole crew read a project together internally in order to ask first questions. You can see an example in Aaron Sorkin's ''Being the Ricardos''. I came across it during my studies in London and found that tool to be extremely helpful to implement before you even have the crew, like for instance when you're still in the development or even rewriting process. It gives you a new perspective, outside of your head to see it play out or where actors could stumble upon, in what moments the author's intention is unclear, etc.
Since presenting a project via this format is something which has never been done in Luxembourg, it's a more visual and entertaining way for audiences and especially producers, instead of reading the 102-page screenplay at their office. They get to see some of the highlight scenes, being teased with what's not shown, having to fill in some gaps themselves, they see the actresses, the illustrations of the characters and excerpts of the storyboard.
Chronicle.lu: What inspired the decision for a multilingual project (English, French and Luxembourgish)?
Bianca Jaeger Montobbio: I come from a multilingual household myself besides my education and upbringing in Luxembourg. With ''About to... BOOM!'' and the table read being not the finished product, it only seemed logical to show the actresses' linguistic capacities instead of predetermining the language. Because in the end every selection is also an exclusion of what gets left out. The language of a movie is often chosen either by the author's wish and/or in Luxembourgish cases by the co-production choices, since a lot of Luxembourgers are polyglots. Personally, I have no language preference and I was (years ago) surprised by director Lara Mack's choice to have a short film where each actor spoke in their language. This is a dynamic which could perfectly happen in ''About to... BOOM!'', with each character having a different background. For simplicity reasons for the reading, we decided it was best to split it among acts as it flows better in a reading. Still, it is important to me to make it clear that as an author I have no language preference and this opens the project up to more casting options and to a bigger audience. Also, it is not the first project where I've worked with people who have walked the extra mile to learn a language specific for their part. These experiences only solidify my belief that implementing diversity is not as complicated as it is sometimes made out to be.
Chronicle.lu: Why did you choose the topic of pregnancy/motherhood?
Bianca Jaeger Montobbio: I'm not sure it's possible to rationally and strategically choose a topic when it comes to ideas. For me, it's a topic which is around me and even harasses me since I'm clearly read as a woman and now (very proudly) in my 30s. And that's the same or similar sentiment for the main characters. Some have other dreams and yet are confronted daily by the motherhood-questions, when [are they having] babies, why no babies yet, etc. Obviously it is a very important and omnipresent topic, both privately and politically, since a society needs to constantly grow. However, the main ''theme'' of ''About to... BOOM!'' is more focused on choices, expectations and women's agency. The characters have reached a moment where the next "expected" stage would be reproduction, and that is a choice to be made which comes with a million ramifications. Other than the constant pressure which lies still more heavily on women than men in that area, there needs to be a space to wonder whether or not you want to make that choice or a different choice, without the constant reminder that you have to choose now and quickly and rightly.
Chronicle.lu: In what way does the Oeuvre Nationale de Secours Grande-Duchesse Charlotte support this project?
Bianca Jaeger Montobbio: The Oeuvre Nationale de Secours Grande-Duchesse Charlotte supports this project via their startup fund, which has given me the resources, both in time, financially and in guidance, to fully flesh out the project from the idea to a fully finished 100+ page script, with the full dossier behind of character descriptions, research, psychological profiles, motherhood data, storyboard, the table read event, etc.
Most creatives have to either come from very privileged backgrounds in order to dedicate themselves to creating or rely on grants. And since everything creative is a way to connect to people, to communicate something, it is essential that the voices heard are not always cut from the same cloth, because in the eight billion people on the planet, there's more than one type of voice.
Pictured below: Bianca Jaeger Montobbio