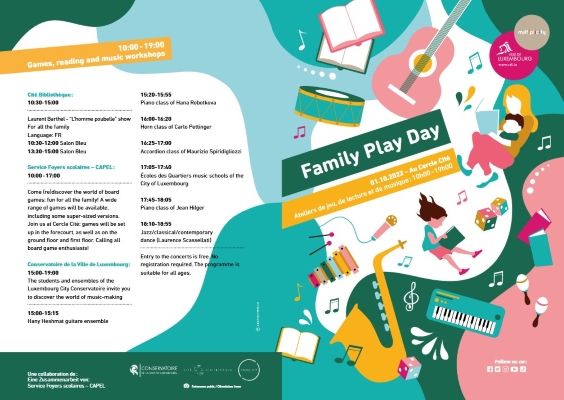 Credit: VdL
The City of Luxembourg (Ville de Luxembourg - VdL), together with Centre for Educational and Leisure Activities (CAPEL), the Cercle Cité cultural centre, the City Library (Cité Bibliothèque) and the Conservatory of the City of Luxembourg, has announced the "Family Play Day", taking place on Saturday 1 October 2022 from 10:00 to 19:00 at Cercle Cité.
Throughout the day, visitors can enjoy games, reading and music workshops.
Between 10:00 and 17:00, visitors young and old, can (re)discover a multitude of board games and large wooden games (ground floor, first floor and forecourt of the Cercle Cité).
At 10:30 and 13:30, the City Library will offer two shows for the whole family, "The Trash Man" (10:30 - 12:00 and 13.30 - 15:00).
Finally, concerts given by students and ensembles from different classes of the Conservatory of the City of Luxembourg are scheduled between 15:00 and 19:00.
Participation in all activities is free and no prior registration is required.
Further information and programme details are available online via: https://cerclecite.lu/en/event/family-play-day-2022.