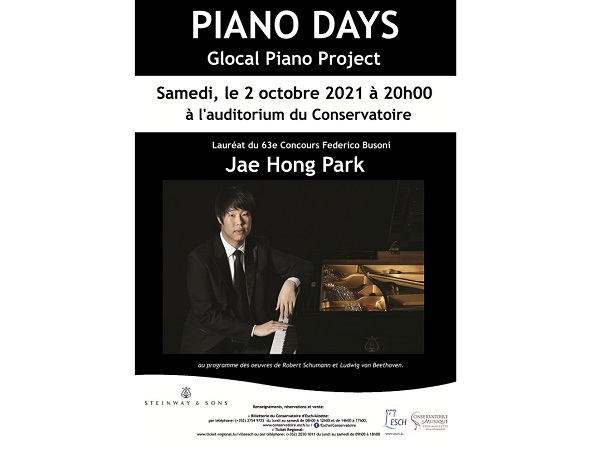 The music conservatory in Esch-sur-Alzette (Conservatoire de Musique de la Ville d'Esch-sur-Alzette) has announced that it is organising a three-day event, "Piano Days", during which it will present its new Steinway & Sons grand piano.
The arrival of this new piano at the music conservatory is the result of cooperation between the Municipality of Sanem and the City of Esch-sur-Alzette. The instrument will be in the spotlight for three days, from 1 to 3 October 2021, with concerts by teachers and students from the conservatory as well as a concert organised in collaboration with the Steinway & Sons manufacturer.
Day 1 will kick off at 20:00 with the official inauguration of the grand piano, in the presence of a delegation from the College of the Mayor and Aldermen of Esch-sur-Alzette and from the Municipality of Sanem. This is followed at 20:15 by a concert by piano teachers from the conservatory (Valeria Cacopardo; Stefanie Duprel; Yannick Thiry; Claude Clement; Annie Kraus; David Trezegnies; Lina Druart; Lynn Orazi; Nicholas Van de Velde). There are no more tickets available for this evening.
Day 2 (also starting at 20:00) is dedicated to the 63rd Ferruccio Busoni International Piano Competition and the "Global Piano Project". Ferruccio Busoni International Piano Competition. The music conservatory in Esch-sur-Alzette will welcome one of the three winners of the competition during its Piano Days: Jae Hong Park. Tickets cost €20 for adults, €9 for young people and €4.50 for children, and can be purchased via https://www.ticket-regional.lu/events_info.php?eventID=180319.
Students of the music conservatory will bring Piano Days to a close, with a morning dedicated to showcasing their talent on 3 October from 10:30. Entry is free.