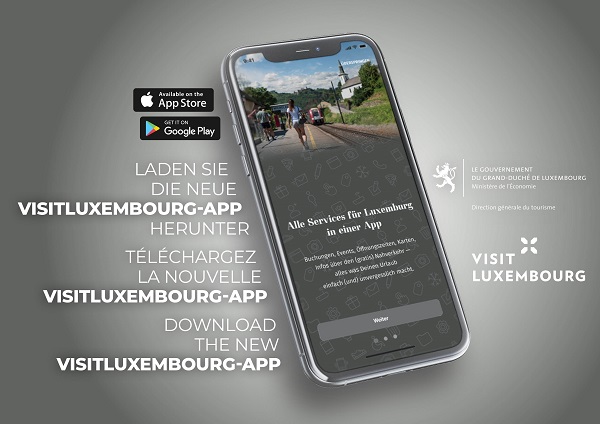 Credit: MECO
Luxembourg's General Directorate for Tourism has announced the official launch of the new "VisitLuxembourg" mobile application.
On Tuesday 13 July 2021, Lex Delles, Luxembourg's Minister for Tourism, presented the VisitLuxembourg app, which is designed as a new personal travel companion in the Grand Duchy.
Luxembourg's tourist offer is diversified and constantly evolving. The VisitLuxembourg app is designed to serve as a compass, give advice and provide all the necessary practical information. The app features six categories: culture, nature, gastronomy & nightlife, sport & activities, guided tours and "Made in Luxembourg", as well as 20 sub-categories and various filter options, all aimed at providing an overview of the tourist offer and allowing app users to plan their trip on the go.
This new app offers the possibility of researching and contacting Luxembourg's various attractions as well as making online reservations while viewing transport connections and weather information. The user can also draw up his / her own list of preferences in terms of attractions or guided tours. The app stores this information as well as the user's location (with the user's prior consent) in order to provide tailor-made suggestions. Those who wish to discover Luxembourg through captivating and unique activities can find inspiration in the "Travel Stories" section; the app currently offers six authentic stories which are aimed at piquing the user's curiosity and making him / her want to explore Luxembourg, for example on a skateboard.
Minister Lex Delles explained that "'VisitLuxembourg' is much more than a simple application. This travel companion is aimed at tourists as well as residents and allows [them] to plan a personalised tourist visit. It is also a lively and dynamic application which is updated regularly. The number of attractions displayed is therefore constantly evolving".
"With our new app, we want to accompany our visitors in the best possible way, while highlighting the modern flair and the extraordinary spirit of the tourist destination of Luxembourg", added Dr. Sebastian Reddeker, CEO of Luxembourg for Tourism (LFT).
The VisitLuxembourg app can be downloaded free of charge from the App Store or Google Play and is currently available in German, French and English. The "LuxembourgCard", which entitles holders to free or reduced entry to many attractions, is also available on the app.