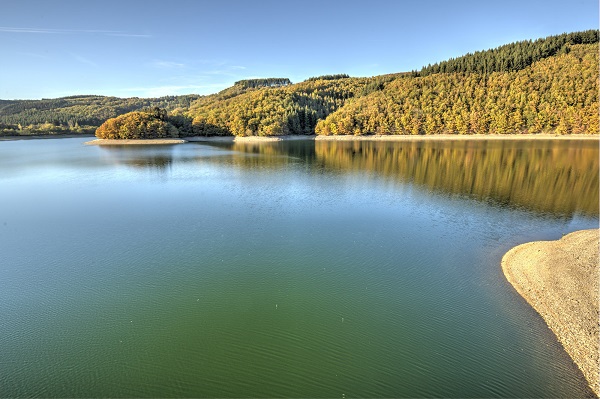 Upper Sûre Lake; Credit: Hélène Muller
The Luxembourg state has announced its decision to cover the fees of ticketing and security at the six beaches on the Upper Sûre Lake this summer.
Luxembourg's Minister for Spatial Planning, Claude Turmes, the Minister for Tourism, Lex Delles, and the Minister of Health, Paulette Lenert, announced that the government will take over the costs related to the establishment of a ticketing system and security in the context of the COVID-19 pandemic, for the period from 15 May to 15 August 2021. This will ensure free access to the Upper Sûre Lake beaches.
Minister Claude Turmes commented: "Access to the lake beaches remains free. This decision is all the more important in this period of health crisis in order to allow everyone to spend pleasant moments, with family and friends, in an exceptional place of relaxation and in the heart of nature".
An employee of a private security company will ensure compliance with COVID-19 regulations when entering and leaving each beach on busy days. The government will fully cover these costs in the context of the COVID-19 crisis.
The Éislek (Oesling) Regional Tourist Office and the Upper Sûre Nature Park will provide further details about the reservation system early next week.