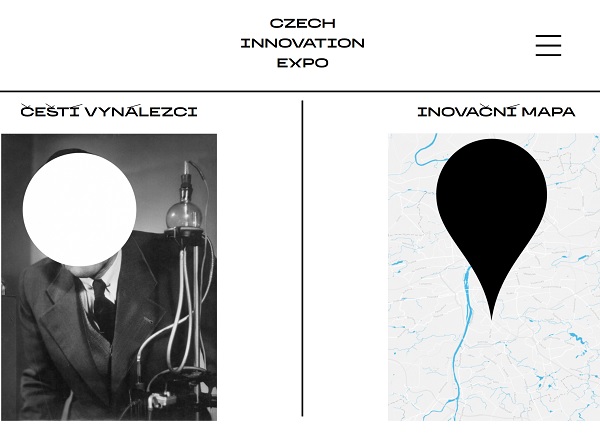 CIE; Credit: Czech Embassy in Luxembourg
The Embassy of the Czech Republic in Luxembourg has announced that it is launching the Czech Innovation Expo (CIE) tomorrow, Friday 11 December 2020, in the presence of Franz Fayot, Luxembourg's Minister of the Economy and Minister for Development Cooperation and Humanitarian Affairs.
This innovative exhibition depicts the Czech Republic as the home of many prominent scientists, thinkers and innovators whose discoveries, inventions and industrial brands (Škoda, Jawa, Tatra, etc.) in many areas of human research and knowledge have influenced the lives of people around the world.
The 3D interactive project combines audio-visual art, design and technology. The content is presented through augmented (virtual) reality pictograms, taking a look back at a century of the country's history in the field of research and science. The images offer an abstract play of shapes using tablets and smartphones equipped with an augmented reality application.
The Czech Embassy has described the exhibition as a sort of picture encyclopedia allowing viewers to travel through space and time, discovering unknown worlds under the electron microscope of Armin Delong, the lenses of Otto Wichterle or control of the Kaplan turbine, among others.
To explore the content, the public can either use the iPads available at the Czech Embassy or a QR code (www.ciexpo.cz). Viewers can then select English and point the camera at the black markings on the wall, before discovering the hidden parts of the exhibition.
The exhibition, which was conceived for the centenary of the Czech Republic in 2018, will run in Luxembourg (on the fence outside the Czech Embassy) for approximately two months.

The CIE has been nominated and shortlisted for the Czech Grand Design Award in Graphic design category for its concept, visual identity and mobile application. Its Luxembourg version follows realisations in Czech, English, Japanese and Chinese mutations, in the Czech Republic (Prague, Brno, Bruntál), China (Beijing, Xiamen, Shanghai), Germany (Berlin, Munich), Great Britain (Birmingham, London), Greece (Athens), Italy (Roma), Japan (Tokyo), Slovakia (Bratislava), Spain (Madrid) and Sweden (Gothenburg, Stockholm). Future plans include Bulgaria, Poland or United States of America.

Partners include Czech Centers, the Ministry of Foreign Affairs, the Academy of Sciences of the Czech Republic, the National Technical Museum and CzechInvest. Jan Drozda, Mikuláš Křen, Vítek Škop and Adam Uchytil were responsible for the design of the exhibition, whilst Czech Innovation was in charge of production.