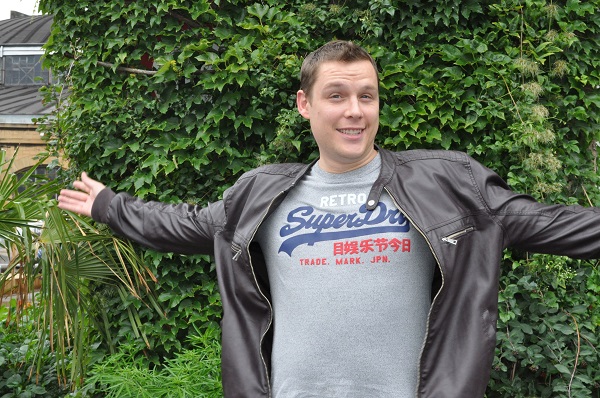 Sam Steen; Credit: ARA City Radio
ARA City Radio has announced that it will be hosting a 33-hour marathon show in Luxembourg as part of its crowdfunding campaign.
In order to #SupportRadioARA at this challenging time, ARA City Radio Breakfast Show host Sam Steen is prepared to lockdown again in the studio for 33 hours to launch the radio station's crowdfunding campaign. The show will take place next week and will start at 06:00 on Thursday 17 September, finishing at 15:00 on Friday 18 September 2020.
Sam Steen already holds the Luxembourg record for a 32-hour show, set in January 2018, and after that he said "never again". Yet Sam has decided that another painful marathon is the best way to engage listeners to support and stabilise the station's finances. The radio host commented: "Like many small businesses in Luxembourg, the pandemic and following economic crisis has hit the radio station hard. We support local artists, causes and the different international communities in Luxembourg, to continue to do this we need to stay on-air, and therefore we need listeners support to stabilise our finances".
The new media law that is likely to be introduced this autumn has not helped the plight of the community radio, as manager Lisa McLean explained: "The principle of the new law is fine, it is trying to support journalism in the digital age, however a community radio station like ours does not fit into that framework and we are going to be completely left out, while competitors get support. We need to use crowdfunding to stabilise our immediate finances, but also to show the government that our listeners care, and in a sense demand that we gain some government support".
During the COVID-19 lockdown in Luxembourg, the ARA team responded immediately to the needs of the international community. Daily local news produced in English was translated and recorded by volunteers in nine different languages. Sam Steen added: "People know us for information and the fun chat in the morning, but at the end of the day, we respond again and again to what is going on in Luxembourg, whether it is a crisis, a fundraiser, a charity, an art or sports event, we give a voice to the different communities in Luxembourg. The pandemic really solidified who we are and what we do for Luxembourg. The volunteers that worked on the News project were amazing".
The marathon show promises to be a mix of listeners' favourite features from Sam Steen's daily show, as well as fun chat and lots of interesting games and challenges to keep him awake. The ARA City Team has organised a schedule and there will always be someone with Sam. There promise to be many local personalities, musicians and guests in the studio to keep him and listeners entertained on the BIG FAT MARATHON SHOW 2020.
Sam Steen hosts the "Freshly Squeezed" Show every morning from 06:30 to 09:30 on the Radio ARA Network 102.9 and 105.2 FM.